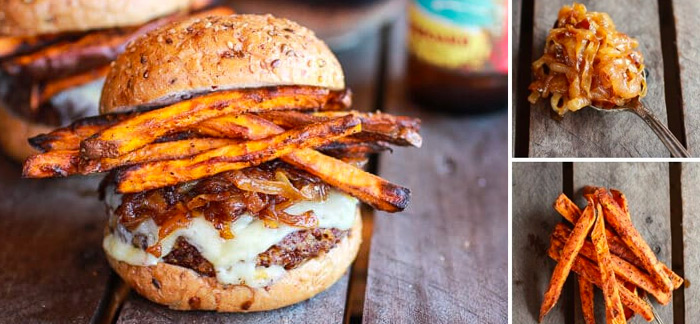 | | |
| --- | --- |
| SERVES: 4 | PREP TIME: 20 minutes COOK TIME: 50 minute |
INGREDIENTS
QUINOA BURGERS
2 cups cooked red quinoa

1 cup cannellini beans mashed

1/2 cup panko bread crumb

1 large egg lightly beaten

1 clove garlic grated

1 teaspoon chipotle chile powder

1/2 teaspoon kosher salt and pepper

3/4 cup sharp cheddar cheese shredded

3 tablespoons olive oil

4 of your favorite burger bun

4 eggs cooked to your liking optional (but recommended)!
SWEET POTATO FRIES
4 inch medium sweet potatoes cut into thin 1/2- thick strip

1/2 teaspoon chipotle chile powder

1/4-1/2 cayenne pepper

1/4 teaspoon smoked paprika

salt and pepper to taste

4 tablespoon olive oil
BEER CARAMELIZED ONIONS
1 tablespoon butter

2 large sweet onions thinly sliced

1 cup beer I used pumpkin beer
DIRECTIONS
Step 1
Light a grill or preheat a grill pan. In a large bowl, mix the pork with the scallions, ginger, garlic, 1 teaspoon of the sesame oil, 2 teaspoons of kosher salt and 1/2 teaspoon pepper. Form the meat into four 3/4-inch thick patties.
Step 2
Grill the burgers, turning once, until cooked through, about 8 minutes. Lightly toast the buns on the grill.
Step 3
Meanwhile, in a medium bowl, toss the coleslaw mix with the rice vinegar, soy sauce and the remaining 1/2 teaspoon of sesame oil. Season with salt and pepper. Set the burgers on the buns, top with the slaw and serve.
SERVE WITH

Sriracha and mayonnaise



Originally posted on: https://www.halfbakedharvest.com/epic-crispy-quinoa-burgers-topped-sweet-potato-fries-beer-caramelized-onions-gruyere/


Date Published:

21 January 2019