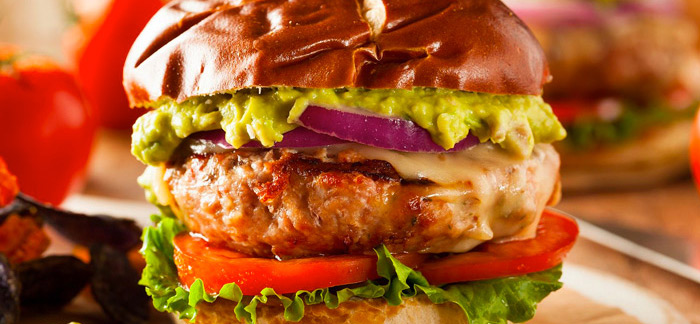 | | |
| --- | --- |
| READY IN: 25 minute | SERVES: 4 |
INGREDIENTS
1⁄4 cup tomatillo salsa
2 tablespoons avocados, chopped
1 tablespoon fresh cilantro, chopped
2 slices white bread
1⁄2 cup onion, finely chopped
1⁄2 cup red bell pepper, finely chopped
1⁄2 cup green bell pepper, finely chopped
2 teaspoons fajita seasoning mix, divided
1⁄4 teaspoon salt, divided
1 tablespoon tomato paste
500g ground turkey
1 egg white
4 whole wheat hamburger buns, toasted
DIRECTIONS
Combine the tomatillo salsa, avocado, and cilantro in a small bowl; set aside.
Place bread slices in a food processor; pulse 10 times or until coarse crumbs measure 1 cup.
Heat a large nonstick skillet over medium high heat and spray with nonstick spray.
Add onion and bell peppers; sauté for 5 min or until tender.
Stir in 1/2 tsp fajita seasoning and 1/8 tsp salt. Cool.
Combine breadcrumbs, onion mixture, remaining 1 1/2 tsp fajita seasoning, remaining 1/8 tsp salt, tomato paste, turkey, and egg white in a large bowl.
Using damp hands, divide turkey mixture into 4 equal portions, shaping each into a 3/4-inch thick patty.
Heat pan over medium heat and recoat with nonstick spray.
Add patties and cook for 4 min on each side or until done.
Place 1 patty on bottom half of each bun, top with 1 1/2 tbsp of the salsa mixture and top half of the bun.


Originally posted on: https://www.geniuskitchen.com/recipe/fajita-turkey-burgers-177653


Date Published:

21 January 2019