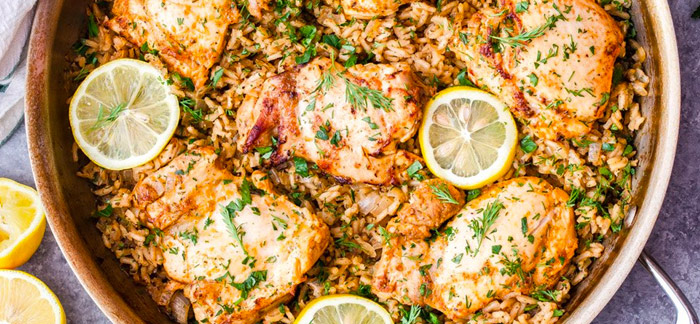 Now that spring is in full swing, it's time for a recipe refresh with a few delicious chicken dishes that you may never have known existed.
Pack a new punch with bang-bang chicken, head to the orient, dip into Moroccan cuisine, capture the aroma of Greece or make a zingy festive season salad. Whether you are cooking from scratch or using a ready-cooked chicken, here are five unusual yet yummy meal ideas.
BANG-BANG CHICKEN SALAD
When the temperature rises, a cool and crisp nutty-chicken-noodle salad is a refreshing meal. The silky noodles work surprisingly well in this fresh and flavourful dish from south-east Asia.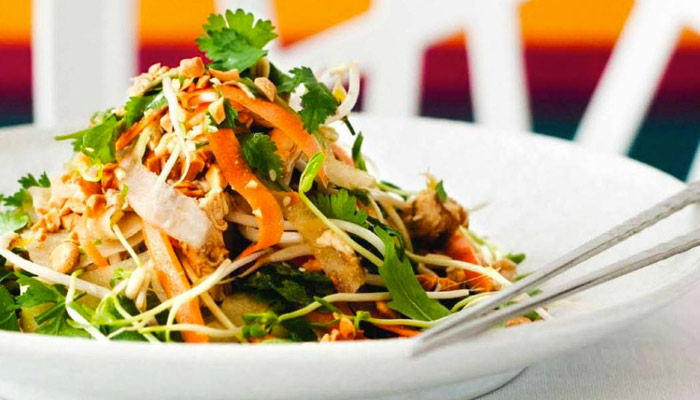 Ingredients:
400g egg noodles (you can use Asian noodles or spaghetti)
½ cucumber, cut into long strips (no need to peel)
1 large carrot, peeled and cut into long strip
1 yellow pepper, deseeded and thinly sliced
1 large mango, peeled, stoned, and cut into long strips
1 bunch of spring onions, cut into strips
4 chicken breasts, cooked and shredded (gently poach breasts in a stock made of ginger and garlic if you are not using cooked chicken)
Dressing: 6 tablespoons olive oil, 1 tablespoon sesame oil, 1 clove of garlic (minced), 2 tablespoons soya sauce, 1 teaspoon fresh ginger (grated), 1 red chilli (chopped, or to taste), 2 tablespoons rice vinegar, 3 tablespoons peanut butter, 1 tablespoon of brown sugar, juice of 2 lemon
Garnish: 50-100g chopped roasted peanuts
Method:
Cook the noodles, then drain and rinse. Drizzle with the sesame oil to keep them from sticking together and chill in fridge, covered, while you prepare the rest of the bang-bang chicken.
On a large flat platter, place noodles, then layer cucumber, carrot, pepper, mano, spring onion, and chicken evenly on top. Cover with clingfilm and place in fridge to chill. Blend dressing ingredients together.
When ready to serve, pour dressing over the chicken. Top with peanuts and serve.
---
TERIYAKI CHICKEN THIGHS
Head to the orient for this Japanese-inspired way of cooking chicken thighs, one of the juiciest parts of this versatile bird. Translated, the "teri" in teriyaki refers to the shine given by the sugar in the sauce, while "yaki" refers to the cooking method of grilling, although this slightly healthier version has cut back on the sugar content.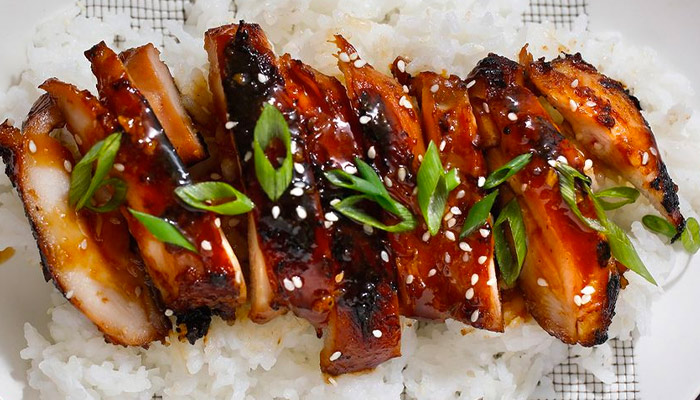 Ingredients:
¼ cup (60ml) low-sodium soy sauce
2 tablespoons brown sugar
2 tablespoons dry sherry
2 tablespoons rice vinegar
2 garlic cloves, crushed with a garlic press or minced
1 teaspoon finely grated fresh ginger
½ teaspoon red pepper flakes (or to taste)
800g skinless chicken thighs
2 teaspoons sesame seeds
Method:
Combine all ingredients except the chicken and sesame seeds and stir until the sugar dissolves. Transfer spice mixture to a resealable plastic bag and add the chicken. Seal the bag and marinate the chicken in the refrigerator, turning once, for 1-4 hours.
You can braai or broil these chicken pieces. Here's how to broil: Heat the broiler to high (use the rack near the top of the oven cavity), and preheat a broiler pan (do not use glass) or baking tray in the oven.
Remove pan, arrange the chicken on the hot pan skin side down and broil until brown and crispy, 8 to 10 minutes. Flip the chicken and broil until almost cooked through, about 8 minutes longer.
Sprinkle with sesame seeds and cook until the seeds turn golden brown and the chicken is done, 1 to 2 minutes longer.
---
MOROCCAN CHICKEN AND PEACH TAGINE
North African cuisine often melds stone fruit or dates with spices such as cumin and cinnamon, and this tagine – which can be cooked in a pot if you don't have a traditional Moroccan tagine – adds a touch of sweetness with peaches.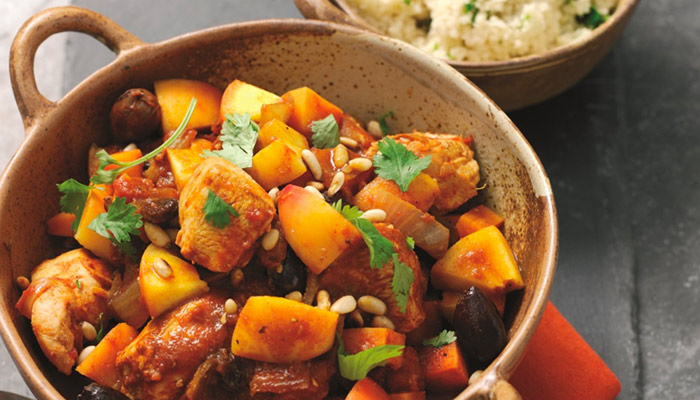 Ingredients:
1 tablespoon olive oil
1 small onion, diced

3-4 skinless, boneless chicken breasts, cut into bite-size piece
s
1 tablespoon finely grated ginger

1 garlic clove, finely chopped

2 teaspoons ground cumin

1 teaspoon ground paprika

1 teaspoon ground cinnamon

4-5 fresh peaches, skinned and sliced

1 small sweet potato, cut into small bite-size pieces
125ml water
½ teaspoon salt
50g raisins, plumped in hot water
400g tin chopped tomatoe
s
Garnish: 4 tablespoons walnuts, roughly chopped and toasted and chopped fresh coriander
Method:
Heat the oil in a large frying pan over medium heat and add the onion and chicken. Brown, stirring occasionally, then stir in ginger, garlic and seasonings. Add peaches, sweet potatoes, tomatoes and their juice, water, olives and salt. Stir, bring to the boil, cover and simmer gently, stirring occasionally, until sweet potato is soft, about 15 to 20 minutes.
Stir in raisins, then season to taste with salt and pepper. Serve with couscous or rice, sprinkled with walnuts and coriander.
---
GREEK LEMON ONE-POT CHICKEN
This is a lusciously comforting dish, simple to prepare and yet redolent with the lemon, garlic and wild herb aromas of the Greek countryside.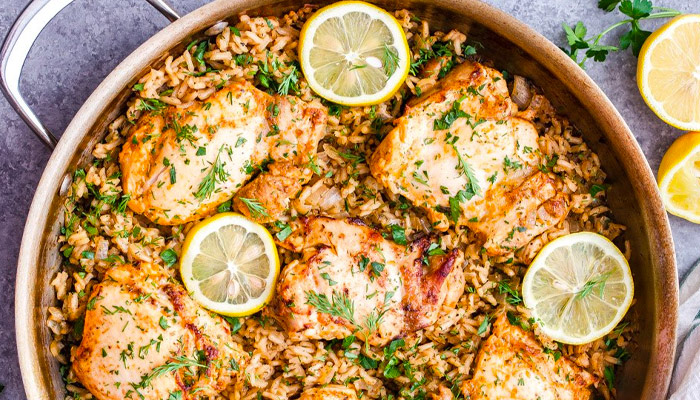 Ingredients:
1 tablespoon olive oil
1 chicken of 1.5kg
Zest and juice of 2 lemon
4 cloves of garlic, peeled and minced
350g carrots (2 large), scraped and cut into rings
350g leeks (2 large), trimmed and cut into rings
1 teaspoon salt
1 teaspoon chilli flakes (optional)
2 teaspoons dried tarragon
1 teaspoon dried thyme
1.5 litres water
300g orzo (pasta rice)
1 large bunch of Italian parsley
50g grated fresh parmesan cheese (optional)
Method:
Preheat the oven to 180°C. Heat oil in a large oven-proof dish with a tightly fitting lid. Place the chicken in the hot oil, breast side down, to colour the skin then remove from heat and add lemon zest and garlic.
Place carrots and leeks around the chicken, then add salt, chilli flakes (if using), and herbs.
Pour in the cold water, and add the lemon juice.
Turn up the heat and bring to the boil, uncovered. Put the lid on and place in preheated oven for 1 hour 15 minutes.
Take the pot out of the oven and stir the pasta rice around the edges of the chicken, replace lid and put the casserole back in the oven for another 30 minutes, by which time the orzo should be soft and swollen.
Take out of the oven, remove the lid and let it stand for 15 minutes, stirring to loosen the orzo which will continue to soak up liquid as it stands.
Stir in 4 tablespoons of the freshly chopped parsley, and put the rest in a dish on the table.
To serve, lift chicken out of the pot and remove skin and bones, then return the chicken meat to the pot and stir this through the pasta.
Sprinkle with remaining parsley, and parmesan if using, and serve in individual bowls.
---
FESTIVE CHICKEN SALAD
The addition of cranberries and red onion give this appetising salad the colours of Christmas, and it can just as easily be made with turkey meat as with chicken if you are looking for ways to eat all that extra turkey after the big day.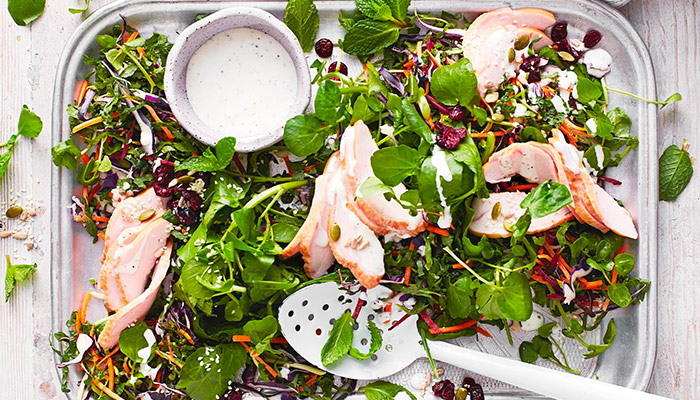 Ingredients:
500g cooked, deboned chicken
2 cups mixed lettuce, baby spinach and rocket leaves
½ red onion, thinly sliced
½ cup dried cranberries
50g walnuts or pecan nuts, roughly chopped
1 round of feta cheese, crumbled
½ cup Italian parsley, roughly torn
½ cup fresh dill, roughly torn
Dressing: 2 tablespoons red wine vinegar, ¼ cup olive oil, 1 teaspoon dijon mustard, 1 clove garlic, finely chopped, salt and pepper to taste

Method:

Slice the chicken into bite-sized strips. Mix the dressing ingredients.

Toss the chicken and salad leaves with half of the onion, cranberries, cheese, nuts and herbs, and place on a serving platter. Mix the remaining ingredients together, reserving a few cranberries, and scatter over chicken salad. Drizzle with the dressing, top with remaining cranberries, and serve.




When you want to entertain with pizzazz, whip up a quick family meal or unwind over the weekend with some slow-cooked comfort food, chicken is such a versatile choice – as these five recipes from around the world show. Cook and enjoy!


Date Published:

12 November 2021