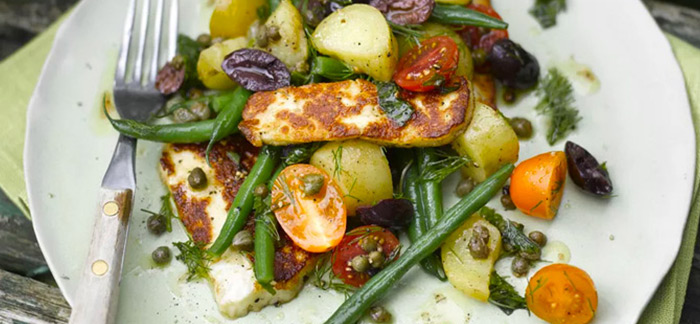 Bored of your usual Greek salad you always so graciously knock up at every braai or social occasion? Hoping to be the envy of every exasperating relative at the next family gathering, then move over lettuce, arrive crave-worthy salads that will get everyone asking for more!
Basil and Lemon infused Broccoli salad
Okay, to be honest it sounds far more fancy than it is! Served hot or cold, at a casual gathering or dinner party. It doesn't matter just so long as you are beginning to change old habits by trying new things!
Ingredients

Steamed broccoli, fresh peas and sugar snaps.
Finely chopped small red onion.
Feta to taste
Avo

Vinaigrette: Dash of flavored olive oil (basil and lemon) some white wine vinegar and mustard.

Steps to Make It

Mix it all up and voilà !
---
Warm Halloumi, Green Bean, and Potato Salad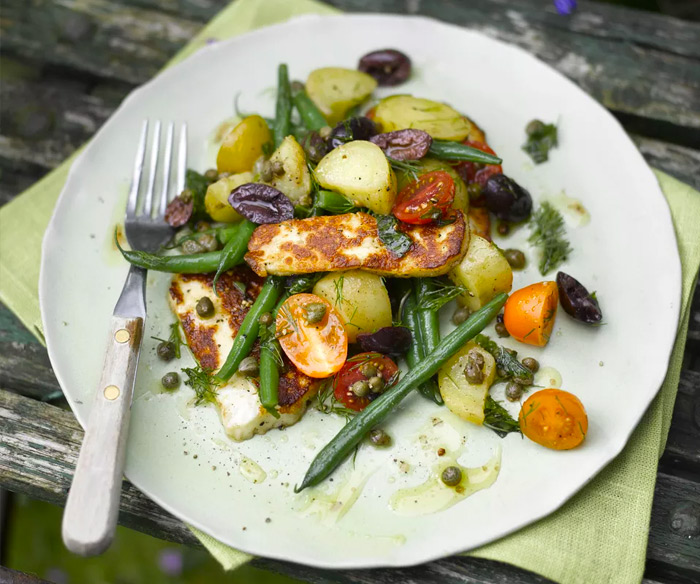 Salad on the plate in under 30 minutes is what we all desire on a warm summers' evening, on any evening in fact as this recipe translates at any time of year.
Ingredients

1 cup new potatoes (sliced)
1 cup green beans (trimmed)
4 tablespoon extra virgin olive oil
1 tablespoon red wine vinegar
1/2 cup baby capers, washed
1small bunch of mint (chopped)
1 small bunch of dill (chopped)
12 black olives (stoned)
1 cup cherry tomatoes (cut in half)
Salt to taste
Pepper to taste
1 tablespoon olive oil
2 tablespoon flour (plain)
200g Halloumi cheese (sliced)




Steps to Make It

Put the sliced new potatoes into a large saucepan, cover with cold water and add a pinch of sea salt. Bring the potatoes to a rapid boil, lower the heat slightly and simmer for 10 - 15 minutes or until the potatoes are cooked but not falling apart. Drain through a colander and keep to one side.
In another saucepan, bring a pan of salted water to the boil. Add the trimmed green beans and cook quickly just for 2 minutes. Drain through a colander, and keep to one side.
In a medium-sized bowl mix the extra virgin olive oil and vinegar, then add the capers, chopped mint, and dill.
To this mixture, add the potatoes, the beans, and cut cherry tomatoes. Stir thoroughly to make sure the vegetables are coated, season with salt and pepper to taste and keep to one side.
In a medium, non-stick frying pan, heat the oil to hot but not burning.
Season the flour with a pinch of both salt and pepper.
Slice by slice, dip the Halloumi into the flour onto both sides, tap gently to remove any excess flour. Gently cook the halloumi slices on both sides until golden brown. Be careful not to overcook the cheese, or to cook it in too hot oil as it will become tough.
Place the cheese onto kitchen paper to drain and help to crisp up.
Add the halloumi to the salad and mix gently, then divide between 4 plates. Serve immediately.
---
Easy Beets Salad with homemade creamy yogurt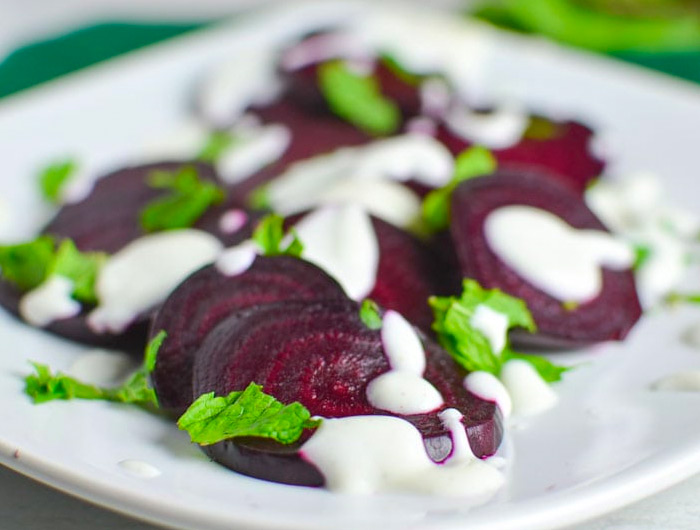 Now who won't think you are a domestic goddess when you mention the homemade creamy yogurt! Moroccan spices and fresh mint leaves add something special to this cooling salad that can be enjoyed at any time of year.
Ingredients

1 cup of natural yogurt
2 tsp cumin seeds (roughly ground)
1 clove garlic (crushed)
Sea salt and freshly ground black pepper
750 g cooked beetroot dipped in vinegar (not pickled)
250 g baby spinach leaves (washed and well drained)
A large bunch of fresh garden mint (roughly chopped)
A large bunch of coriander (roughly chopped, including leaves and stems)

Steps to Make It

First, make the dressing. Mix all the dressing ingredients together in a small bowl.
Take the beetroot and chop into even-sized wedges.
Mix together the beetroot wedges, the washed and drained spinach with most of the chopped mint & coriander in a large serving bowl (reserve a little of the chopped herbs as a garnish for the salad).
Before serving, drizzle the dressing over the salad, then as you are ready to serve finish by sprinkling with the remaining chopped herbs.
The salad can be served on its own with crusty bread and some salty butter, or serve as a side dish with meat or fish, or as part of a range of other salads.
---
Kale and Roasted Cauliflower Salad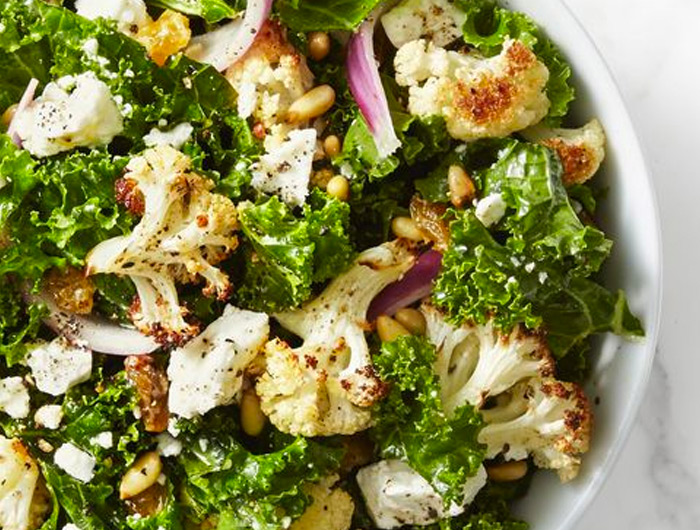 Take your cauliflower obsession to new heights with this hearty salad complete with pine nuts, golden raisins, and feta cheese.
Ingredients

Cauliflower Topping

1 cauliflower
2 tbsp. extra virgin olive oil

Salad

1/4 c. lemon juice
3 tbsp. extra virgin olive oil
1 bunch kale, ribs removed, chopped
1/4 small red onion, very thinly sliced
1/3 c. crumbled feta cheese
1/3 c. golden raisins
1/3 c. pine nuts

Steps to Make It

On a large rimmed baking sheet, toss cauliflower florets with olive oil and 1/8 teaspoon each of salt and pepper. Roast in 450°F oven for 25 minutes, or until stems are tender.
In large bowl, whisk lemon juice, olive oil and 1/2 teaspoon salt. Toss kale with dressing. Let stand at least 5 minutes.
To kale, add cooked cauliflower, onion, feta cheese, golden raisins and toasted pine nuts. Toss until well combined.
---
Sour Cream and Dill Cucumber Salad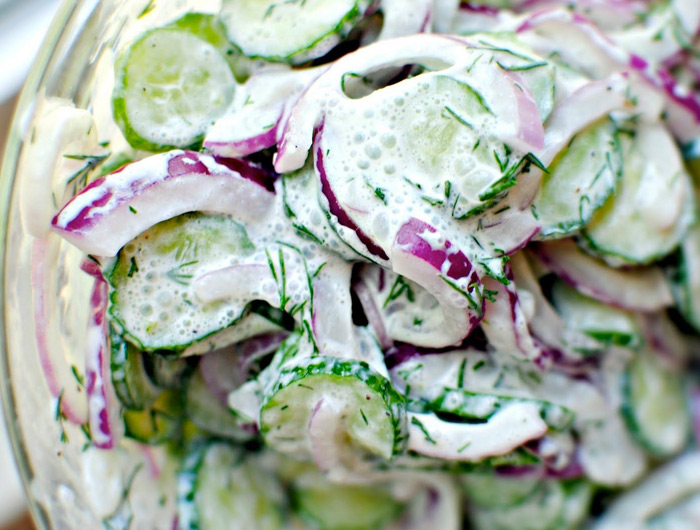 And finally, our showstopper – this is SO easy to knock up and absolutely bursts with flavor.
Everyone needs a go-to recipe and this fresh cucumber salad the answer.
Ingredients

4 cucumbers (about 4 medium), peeled and thinly sliced crosswise
1/4 cup sour cream
1 tablespoon
apple cider vinegar
1 tablespoon
olive oil
1 teaspoon
Dijon mustard
1 small red onion, halved and thinly sliced
1/4 cup
chopped fresh dill
Kosher salt
Freshly ground black pepper




Steps to Make It

Place the cucumbers in a large colander and toss with a couple of large pinches of salt. Set the colander in a large bowl or in the sink and let the cucumbers stand 30 minutes at room temperature to release some of their water. Meanwhile, whisk the sour cream, vinegar, oil, mustard, a pinch of salt, and a few grinds of pepper together in a large bowl; set aside.

Gently pat the cucumbers dry with a paper towel. Add the cucumbers, red onion, and dill to the dressing and toss gently to combine. Taste and season with salt and pepper as needed.






See, it didn't take long to let go of your beloved lettuce. Now make sure we don't find you tucking into that cheese, lettuce and chutney sarmie before calling it a night!





Date Published:

19 November 2018