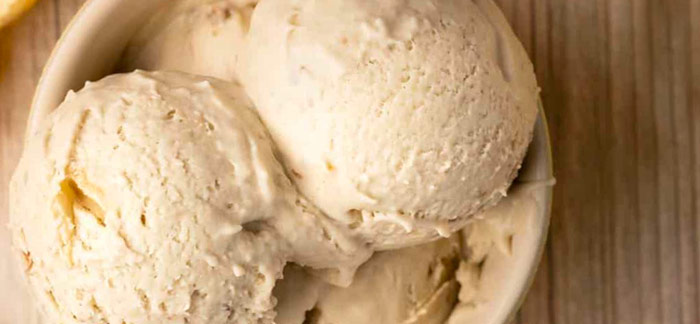 Healthy puddings? We hear you say! The phrase itself sounds ambiguous, if not entirely impossible, but the truth is there are a delectable number of puddings & sweet treats which contain very little sugar if any that can satisfy even the most connoisseured chocolatier amongst us.
We've researched some timeless recipes, ones that can contend with your grannies sugary favourites, but first we put them through our vigorous tests on sweetness, convenience and cost and of course healthiness. After all there is nothing worse than waiting for that melt in your mouth cheesecake and then it's literally a bland concoction of bizarre flours, crushed nuts and overpowering exotic oil!
Sweetness: Okay confession time, it's never going to be up there with the likes of a chocolate volcanic fondant but as you get use to the less sweet taste it will become more palatable and even enjoyable.
Convenience: Super easy except you need to have stocked the pantry with certain ingredients such as: coconut and almond flour, psyllium husk, Xylito, honey, make use of cocoa powders that do not have sugars in them such as CocoáFair. A variety of good oils can be used in baking to replace the use of canola/sunflower oil; such as coconut oil, macadamia nut oil, walnut oil, avocado oil and olive oil. To make your own baking powder: 1 tsp. = ¼ tsp. baking soda + ½ tsp. cream of tartar.
We give it a 7/10
Cost: So here's the thing, the initial costs are high but then they even out depending on how much you actually bake.
Health benefits: Well, a little dash of vegetables never hurt!
With all this talk about pudding's, who's ready for dessert?
Healthy Omega-3 Sweet Potato Waffles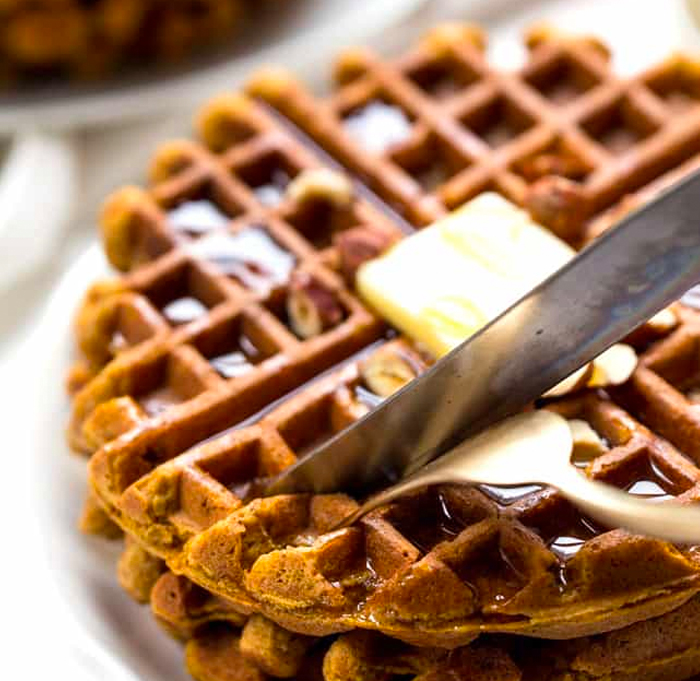 These healthy Sweet Potato Waffles are packed with Omega-3s and make a perfect Winter breakfast! The key to perfectly fluffy waffles is whipping the egg whites. Then you gently fold them into the batter. So airy and light, but still packed with flavour.
Ingredients

1 cup quinoa flour
1/2 cup brown rice flour
1/4 cup flaxseed meal
1/4 cup tapioca starch
2 tablespoons coconut sugar
1 1/2 teaspoon baking powder
1 1/2 teaspoon cinnamon
1/2 teaspoon nutmeg
1/2 teaspoon ginger
1/4 teaspoon salt
1 cup sweet potato puree
2 eggs separated
2 tablespoons melted coconut oil or flax oil
1 teaspoon vanilla extract
1 cup almond milk

Instructions

Heat a waffle iron to medium-high. In a large bowl, whisk together the dry ingredients and set aside.
Separate the eggs into two additional mixing bowls. To the bowl with the yolks, add the sweet potato, oil, vanilla extract and almond milk, and beat together until smooth. For the whites, beat on high with an electric mixer until they can hold stiff peaks.
Add the yolk-milk mixture to the dry ingredients and mix until just combined. Add the whites and gently fold until the batter is just combined again. Careful not to over mix as you don't want to deflate the egg whites.
Grease the waffle iron and drop 1/4 cup of batter into the center. Cook until golden brown and lightly crispy; typically, about 2 - 3 minutes. Transfer waffle to a wire rack and repeat with remaining batter.
When ready to serve, top with desired toppings and enjoy!
For toppings, here are some yummy combos:
Chopped pecans and coconut whip
Sliced figs with a drizzle of peanut butter
Chopped hazelnuts with a drizzle of healthy nutella
Avocado Crème Brûlée
Next up, creamy and smooth Crème Brûlée! Now here is a recipe that you can really indulge in whilst not feeling bad for enjoying something delectable and healthy at the same time!
Ingredients

packed 1/2 cup mashed ripe avocado (120g)
1/2 cup milk of choice or canned coconut milk
1/2 tsp pure vanilla extract
1/16 tsp salt
pinch uncut stevia OR 3 tbsp sugar (You can also use a liquid sweetener – just scale the milk back by 3 tbsp)
2-3 tsp brown sugar or sucanat (omit for a sugar-free version that just won't have the classic top)
blow torch OR oven broiler

Instructions

Puree the first 5 ingredients until completely smooth. Pour into oven-safe ramekins or small dishes and refrigerate until thick like mousse—about 5 hours or overnight. Before serving, sprinkle about a tsp of brown sugar evenly on top of each dish, then either set as close to your oven's broiler as possible and broil OR use a blow torch to burn the sugar. If broiling, it will only take 5-10 minutes, so watch carefully and rotate frequently.
Sugar Free Chocolate Pudding!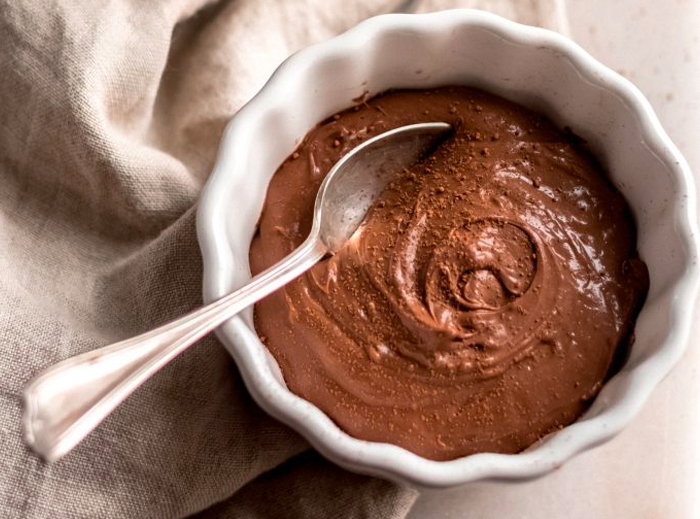 What would dessert be without chocolate! Here's the best sugar-free chocolate pudding recipe you'll ever try! This would only be considered healthy for you if you are omitting processed carbs and replacing with high-fat whilst following Banting!
Ingredients

2 cups Heavy cream (divided into 1/4 cup and 1 3/4 cup)
1 1/2 tsp Unflavored gelatin powder
1/3 cup Powdered erythritol
1/4 cup Cocoa powder
1/4 tsp Sea salt
2 tsp Vanilla extract

Instructions

Pour 1/4 cup heavy cream into a small bowl. Sprinkle the gelatin powder on top (don't just dump it in), and whisk together immediately. Set aside.
In a medium saucepan over medium-low, stir together the remaining heavy cream, powdered sweetener, cocoa powder and sea salt. Heat, whisking constantly, for about 5 minutes, until the mixture is smooth and bubbling near the edges.
Remove from heat. Stir in the vanilla extract.
Add the gelatin, which will be thick, to the pan. Whisk until smooth and dissolved.
Let the pudding cool for about 10 minutes, until cooled enough not to melt plastic wrap to be placed over it. Whisk again to get rid of any film on top.
Cover with plastic wrap flush against the top to prevent a film from forming. Refrigerate for at least 2 hours, until firm.



Cheat's banana and peanut butter cheesecake ice-cream: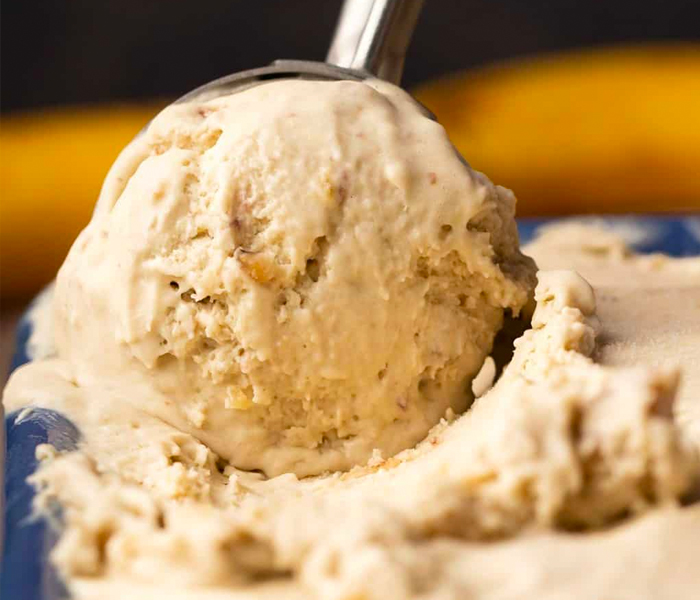 Did you ever think you'd feel great about eating cheesecake ice cream? Well, these ones allow you to do just that! Remember the heading did say "Cheat's" so it's not the real deal but tastes just as good without the sugar!
Ingredients

Flesh of 4 frozen bananas
3 tbsp peanut butter
Maple syrup, honey or golden syrup
4 roughly broken digestive biscuits

Instructions

Put the frozen banana flesh in a food processor with the peanut butter and a drizzle of something sweet (maple syrup, honey or golden syrup all work well). Whizz until smooth, then pulse through the biscuits. Scoop into a bowl and serve.
Enough of all of this talk, it's time to get baking! Remember knowing your own body, educating yourself on the health benefits of following certain eating plans and becoming informed is the best way to stay healthy! Bon appétit!


Date Published:

11 September 2019