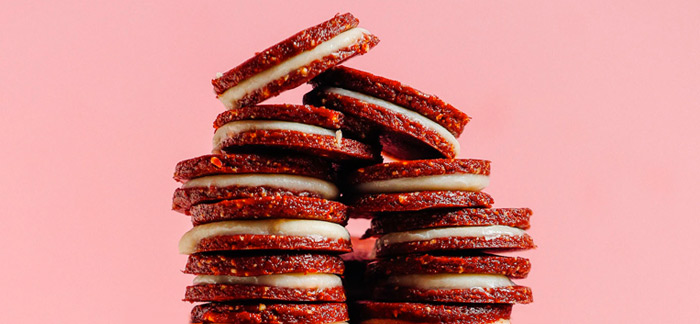 This 7-ingredient recipe starts with blended nuts and is sweetened with dates! Coconut oil adds a little more moisture and "crunch" when chilled, and salt balances everything out. Oh, and don't forget the cacao powder for that quintessential chocolate flavor. Swoon..
---
Prep time

1 hour

Total Time

1 hour

Make

35 cookie
---
Ingredients
FILLING:
~1 cup (256 g) coconut butter
1/4 tsp vanilla extract
optional: organic powdered sweetener to taste (e.g. stevia or organic powdered sugar - NOTE: wet sweeteners cause the mixture to seize)
COOKIE:
1 1/2 cups (168 g) raw almonds or walnuts (I mixed both)
6-7 (42-49 g) medjool or deglet nour dates, pitted (if dates are dry, soak in warm water for 10 minutes then drain)
3 Tbsp (45 ml) melted coconut oil
optional: 1 Tbsp (15 ml) maple syrup
1/3 cup (32 g) cocoa powder (or sub cacao powder)
Pinch sea salt
Instruction
First, prepare coconut butter and add vanilla and sweetener to taste (optional). Remove from food processor and set aside.

Add nuts to the food processor and pulse until small bits remain. Then add dates, coconut oil, maple syrup (optional), cocoa powder, and salt and mix again until well incorporated (see photo). At the end, you should have a doughy texture that stays together when pressed between your fingers.

Taste and adjust flavor as needed, adding more cocoa powder for chocolate flavor, dates (or maple syrup) for sweetness, or salt for saltiness.

Line a flat surface or large cutting board with parchment or wax paper and place the dough in the center. Form into a 1-inch disc with hands and then top with another piece of parchment or wax paper.

Use a rolling pin to roll the dough into an even, roughly 1/4-inch-thick rectangle. Then remove the top layer of wax or parchment paper and use a small circular cookie cutter to cut out as many cookies as you can - I got roughly 70. Just make sure you have an even number. (You could also press half of the dough into a parchment-lined 8x8 baking dish, top with coconut butter, chill, and then top with remaining dough to enjoy them as "Oreo Bars" instead!)

Use a spatula to gently transfer the cookies onto a flat serving platter or plate. Reform any remaining dough and cut out more cookies. Then transfer the serving platter or plate to the freezer to chill for 10-15 minutes or until slightly hardened.

Top half of the cookies with roughly 1 tsp coconut butter. Then pop back in the freezer to chill for just a few minutes until the coconut butter is no longer runny. Then remove from freezer and top with the other half of the cookies, pressing down slightly to adhere.

Enjoy as is or transfer back to the freezer or refrigerator to chill (they tend to soften when at room temperature more than 30 minutes). Cookies will keep covered in the refrigerator up to 1 week or in the freezer (my preference) up to 1 month.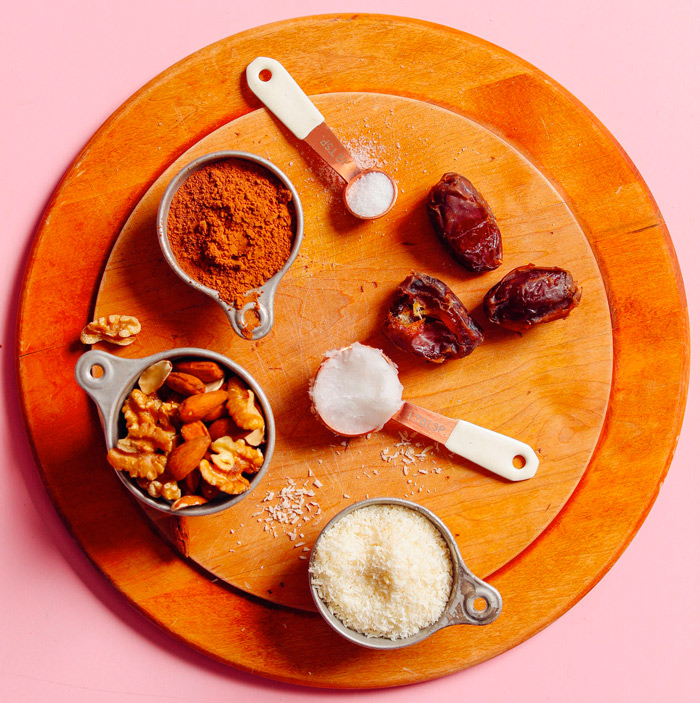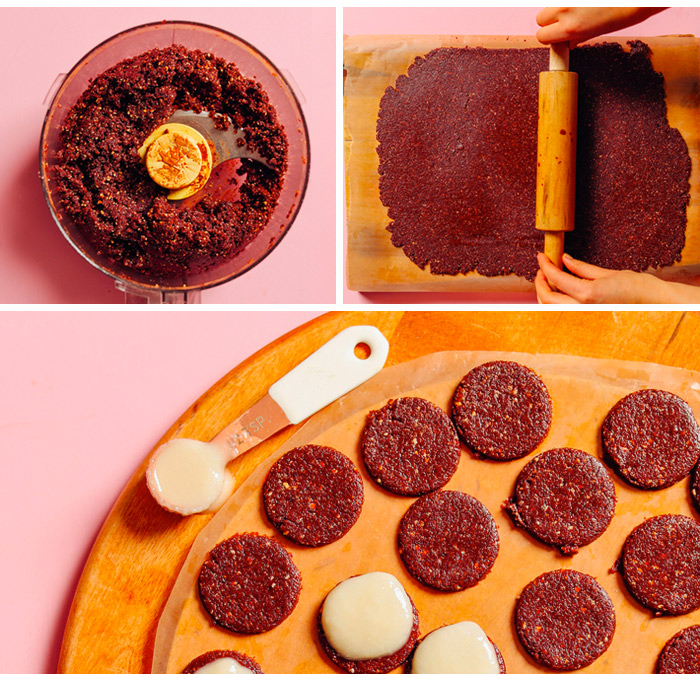 Date Published:

29 May 2018