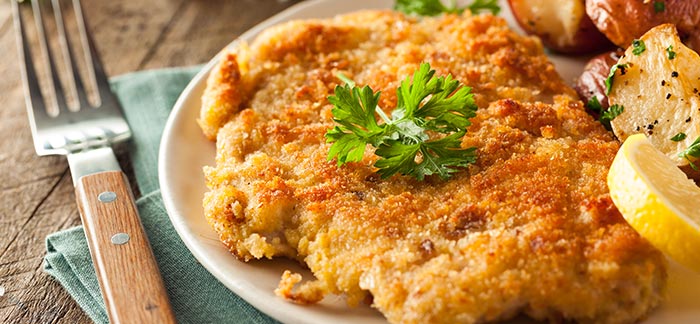 There is nothing better than old-fashioned deep-fried fish & chips, or the crunch of a tender piece of mom's crispy chicken. But regrettably damaging fats used in the process do more harm than good, and the guilt of eating fatty foods unfortunately outweighs the satisfaction. Now there is a way that you can enjoy all your favourites without the guilt!

Introducing the latest trend to healthy cooking - air frying. It's simple. Cost effective. And all you need is a miracle air-fryer gadget to help you get started. An air fryer is not really a fryer. It is basically a little hot air chamber convection oven. It cooks faster than traditional methods and cuts calories by 70% to 80% - now that's a reason, if any to get you started.

You can find a plethora of recipes and ideas on the internet, to spike your interest here are some firm family favourites' each with a moreish side you no longer have to pass up on. Before you get started it is important to remember never to spray your air fryer with spray and cook, rather use a light mist of olive oil or avocado oil.
Homemade healthy hamburgers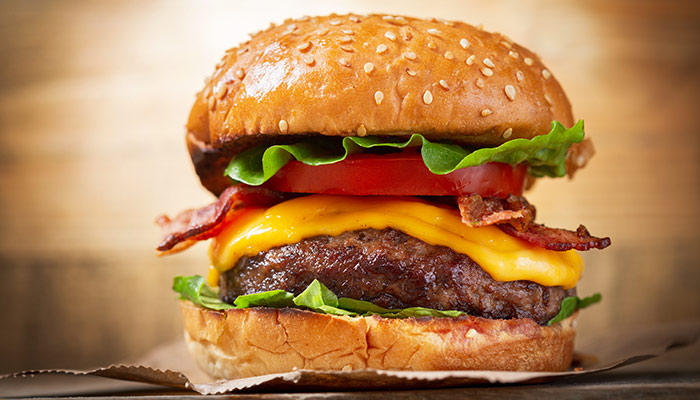 These are juicy, quick and simple to prepare especially if you are an air fryer newbie! Loved by the whole family, they can be customized with various toppings for an anytime meal.
Ingredients:

500g beef mince
½ grated onion
crushed garlic
½ grated apple
2 crackerbreads crumbed
Herbs and spices of your choice (dried thyme works well)

The How:

Preheat the air fryer to 180C
Mix together the patty ingredients in a bowl.
Form the beef mixture into four burger patties and let stand for 10 minutes.
Spray the air fryer basket, add in the burgers.
Cook for 8-12 minutes depending on your desired doneness, turn them halfway through cooking.
One minute before they are done, remove the air fryer basket and top each burger with cheese, return to the air fryer and cook till done.
Build your burgers and then serve.

Perfectly cooked onion rings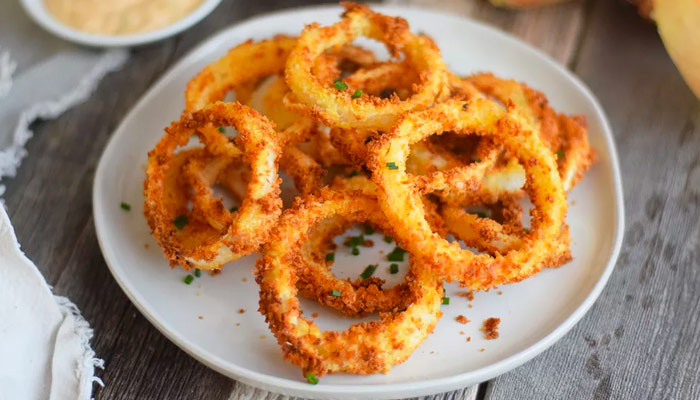 Who doesn't love a few onion rings on the side of a burger, follow the below quick buttermilk batter onion ring recipe for that incredible crunch we all crave.
Ingredients:

1 cup Flour
1 Egg
250 ml Buttermilk
1 cup Breadcrumbs (cracker breads can be used for a healthier option)
Seasoning

The How:

Slice the onion into thick 1/2 cm round rings. Remove the stem.
Set up a cooking station with flour, an egg, buttermilk, and seasonings in one bowl. Place breadcrumbs in another.
Dip the onions into the buttermilk and flour mixture and then the breadcrumbs. Place them on a plate.
Freeze for 15 minutes.
Place the onion rings in the air fryer basket.
Air fry.




Guilt free succulent Pork Chops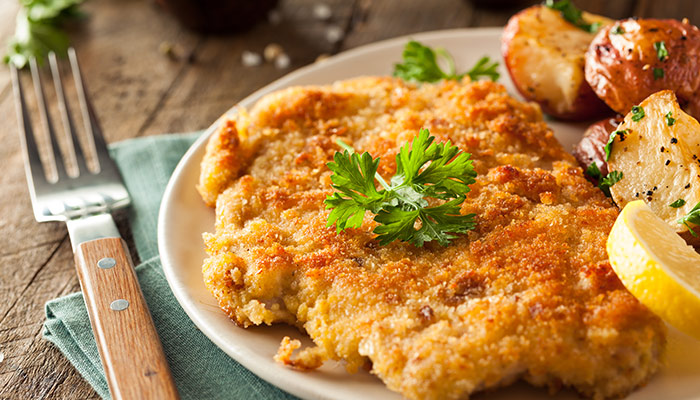 For maximum crispiness, you'll want to make sure your air fryer is preheated and coated with cooking spray before you add the chops. The air fryer's convection heat, which cooks the pork chops quickly without drying them out, works best when there's room for air to flow, so don't overcrowd the basket.
Ingredients:

4 boneless center cut pork chops, trimmed if needed
1 teaspoon kosher salt
1 large egg
1 tablespoon dijon mustard
1/2 cup breadcrumbs
1/4 cup finely grated parmesan cheese
1/2 teaspoon garlic powder
1/2 teaspoon onion powder
Cooking spray

The How:

Set an air fryer to 200 degrees and let heat for at least 10 minutes. Meanwhile, prepare the pork chops.
Season the pork chops all over with the salt and set aside. Whisk the egg and mustard together in a shallow dish. Shake the breadcrumbs, parmesan, garlic powder, and onion powder together in a zip-top bag.
Dip each pork chop in the egg mixture to coat, then place in the breadcrumb bag. When all 4 pork chops are in the bag, seal and shake to coat the chops evenly in the crumbs.
Coat the air fryer basket with olive oil. Use tongs to transfer 2 pork chops into the air fryer and place in a single layer. Cook for 6 minutes. Flip and cook for 6 minutes more. The chops are done when the coating is golden brown. Repeat with the remaining 2 pork chops.

Healthy Cauliflower ready in 10 minutes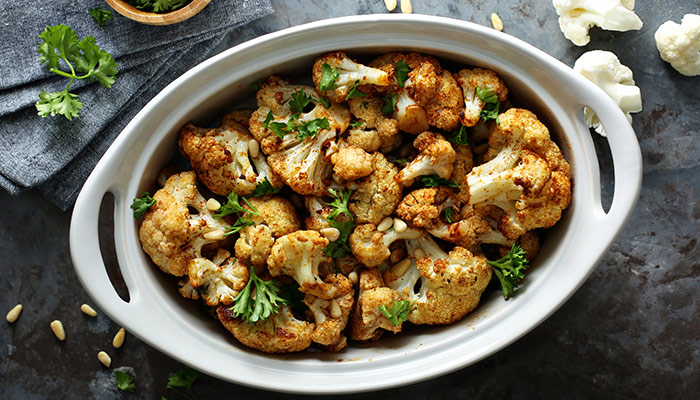 Ingredients:

3 cups cauliflower
1 ½ tsp olive oil
¾ tsp dried oregano
salt and pepper to taste
1 tbsp pine nuts
½ tsp fresh lemon juice
1 tbsp fresh parsley, chopped

The How:

Place cauliflower in a bowl and drizzle with olive oil. Add oregano, and salt and pepper.
Place in the air fryer at 190 degrees and fry for 10 mins. Transfer to a serving bowl and add pine nuts, lemon juice, and fresh parsley.




Light and succulent air fried fish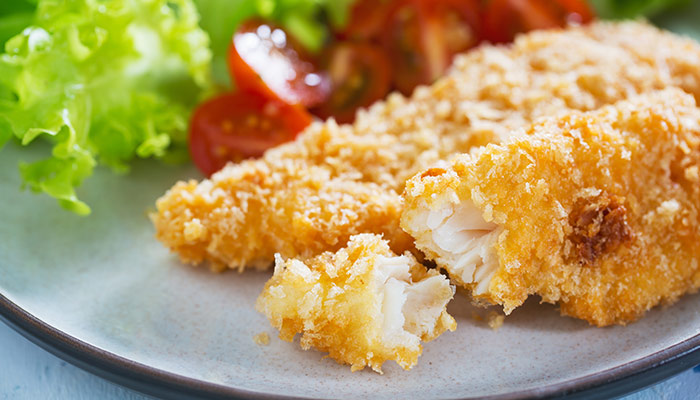 Easy fish that is crispy and golden from the outside, soft and moist from the inside. Cooked in just 15 minutes!
Ingredients:

8 fish fillets
1 tablespoon olive oil or vegetable oil
1 cup dry breadcrumbs
½ teaspoon paprika
¼ teaspoon chili powder
¼ teaspoon garlic powder
¼ teaspoon onion powder
½ teaspoon salt

For Serving:

tartar sauce
lemon wedges

The How:

If using frozen fish fillets, defrost them. Drizzle with olive oil, and make sure that the fish is well coated with oil.
In a shallow dish, mix the breadcrumbs with paprika, chili powder, black pepper, garlic powder, onion powder and salt.
Coat each fish fillet in breadcrumbs, and transfer to your air fryer basket.
Cook in the air fryer 200°C for 12-15 minutes. After the first 8-10 minutes, open the air fryer and flip the fish fillets on the other side then continue cooking.

Fryer Crispy Sweet Potato Chips
An alternative to traditional fried slap chips is the healthier option of sweet potato chips. These sure do resemble the deep-fried kind to perfection.
Ingredients:

500 grams sweet potatoes
1/2 teaspoon coarse sea salt (or more, to taste)
1/4 teaspoon black pepper
1/4 teaspoon paprika
2 teaspoons avocado oil (or oil of choice)

The How:

Preheat your air fryer to 190 degrees.
Slice up your sweet potato into pinkie finger sized sticks
Place the potato slices in a mixing bowl, along with the oil, salt, pepper and paprika, and toss to coat.
Transfer fry mixture to the air fryer and cook until tender and crispy (about 20 minutes). Shake the basket a few times to rearrange the fries and use a flipper to flip them.
Taste test and add more salt if needed.
Your options are endless and the health benefits out way most other cooking methods. Air fryers are available at most appliance or online stores such as Takealot or Yuppiechef, priced roughly between R1 600.00 to R4 999.00. Prices depend on brands and size. It's advisable to get a reputable make such as Milex or Philips from a licensed dealer and to choose your size depending on the number of people you will be cooking for. One thing is for sure, once you acquire this device your kitchen will never be the same, you can still enjoy all the indulgence but with a healthy guilt free twist!


Date Published:

21 October 2020