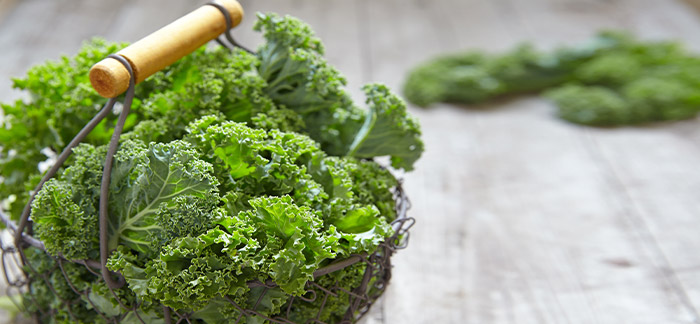 The popularity of kale has skyrocketed and it's no wonder as this leafy green superfood is a great source of vitamins, minerals and other health-giving compounds.
Once only found in health-food stores, today you'll see kale on the fresh produce shelves of many supermarkets.
Here's why it's so good: just one cup of chopped kale will give you your recommended daily allowance of Vit A, C and K, and it's also full of Vit E and beta-carotene, all important for a healthy immune system.
It also contains minerals such as plant-based calcium, needed for strong bones and teeth, and it a natural compound called oxalate which makes this calcium more easily absorbed.
Then there are nutrients that support heart health, such as potassium which helps to maintain blood pressure. This leafy veg also is a good source of Vitamin B6, thiamine, folate, iron and several other nutrients.
When it comes to eye health, kale is rich in two phytonutrients, lutein and zeaxanthin, which help to lower the risk of age-related macular degeneration and cataracts.
So, the burning question is: Why aren't more of us putting this miracle ingredient on the dinner table? That may be because you see it as a tough and bitter version of spinach.
But, don't confuse the two, although kale's leaves look similar to the spinach, kale is also part of the cabbage family and just as fibrous. If you haven't tried it, expect an earthy, yet slightly peppery, flavour and a fibrous texture, much more like cabbage than spinach.
Preparation is important and whether you are eating it raw or cooked, trim off the stiff centre stems, or ribs, which can be slightly woody. Rinse the curly leaves well and pat dry.
Massage is the secret
The secret is to massage kale leaves with a pinch of salt, juice of half a lemon and two tablespoons of olive oil for 3-5 minutes before use. Rubbing acid and oil vigorously into the tough-to-chew leaves breaks down the fibres and turn them in into more appetising greens.
Blanching also helps to soften and reduce the bitterness, and set the bright green colour. Quickly dunk the leaves in boiling salted water, drain, then rinse in ice-cold water and dry before going ahead with your recipe.
KALE CHIPS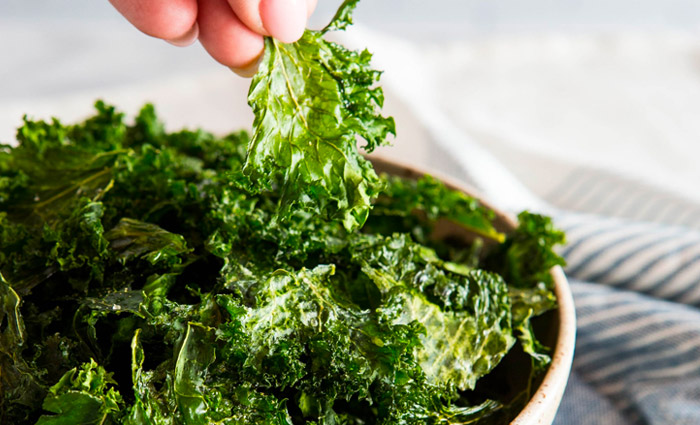 Ingredients:
1 medium bunch of kale washed and dried very well
Olive oil and lemon juice as above
Pinch of salt
Optional: pinch of chilli flakes, garlic powder, 1-2 tablespoons of grated parmesan cheese
Method:
Preheat oven to 200°C.
Prepare the kale by massaging as above. Shake off as much moisture as possible then arrange the leaves on an unlined baking sheet.
Bake for 10 minutes. Rotate the baking tray, flipping any pieces that are starting to look crispy and bake for another 10-15 minutes, watching the pan closely for the last 7-8 minutes to prevent over browning.
Remove the tray from the oven and leave the kale chips on the tray for a few minutes to crisp further.
You also can use your air-fryer, but then shorten cooking time to four to five minutes. Sprinkle with additional salt or seasonings, to taste, and enjoy as a savoury snack, like potato chips.
Along with cucumber, spinach and other vegetables that are high in water, kale is excellent in green juices and smoothies. When it comes to smoothies, you can take the fibrous tang out of kale by whizzing it up with sweet fruits like blueberry, mango, and pear, and make it creamier by adding avocado.
KALE AND PINEAPPLE SMOOTHIE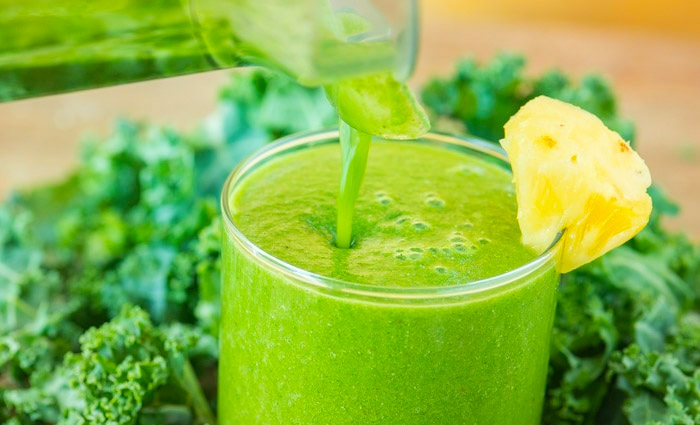 Ingredients:
2 cup lightly packed chopped kale leaves, ribs removed
3/4 cup milk
1 frozen medium banana cut into chunks
1/4 cup plain non-fat Greek yoghurt
1/4 cup frozen pineapple pieces
2 tablespoons smooth peanut butter
2 teaspoons honey (or to taste)
Method:
Place all ingredients in a blender in this order: kale, milk, banana, yoghurt, pineapple, peanut butter, and honey.
Blend until smooth, adding more milk as needed to reach desired consistency. Enjoy immediately.
If raw kale is too hard-core for your palate, it also can be cooked like cabbage and added to stews, soups and more.
KALE AND SWEET POTATO ONE-PAN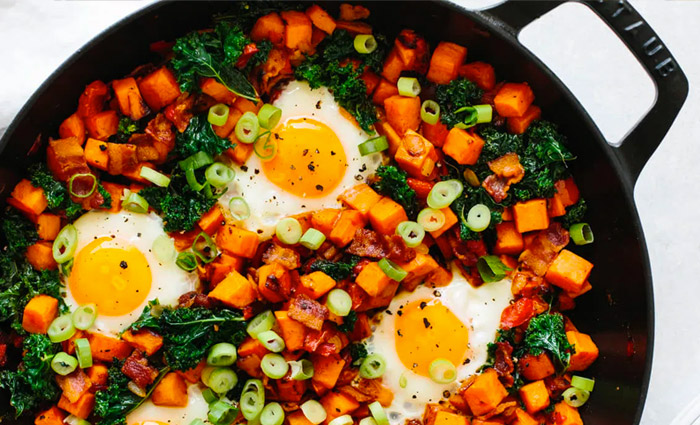 Ingredients:

4-6 rashers of streaky bacon

1 sweet potato, peeled and diced into 1cm cubes

1 red or green pepper diced

1 cup packed kale (about 2 large handfuls), with ribs removed

3 eggs

Salt and pepper to taste

Oil, if necessary

Method:

Cook the bacon in an ovenproof pan on a medium-low heat until it is crisply then drain on a plate lined with a paper towel and set aside.

If the bacon has not produced enough fat, add oil or butter to cover the bottom of the pan. Turn the heat up to medium-high and spread the cubed potato in one layer in the pan. Cook undisturbed for a few minutes on one side until they begin to brown. Flip over and brown on the other side.

Preheat oven to 200°C.

Stir the sweet potatoes with a wooden spoon and cook until they begin to soften. Add the kale and the diced bell peppers and stir to soften the vegetables. Add salt and pepper to taste.

Make 3 little wells in the vegetable mixture and crack an egg into each hole. Transfer the pan to the oven to cook for 5-10 minutes, depending on how runny you want your eggs. Crumble and sprinkle the bacon on top and serve immediately.







Tip: Kale is at its best in autumn and winter and actually tastes sweeter after it has been exposed to a frost – hot conditions to add to its bitter taste




Low in in calories, fat and cholesterol and a good source of fibre and protein, once you know how to handle this miracle ingredient it can be cooked – and enjoyed! – in so many different ways.





Date Published:

04 October 2021