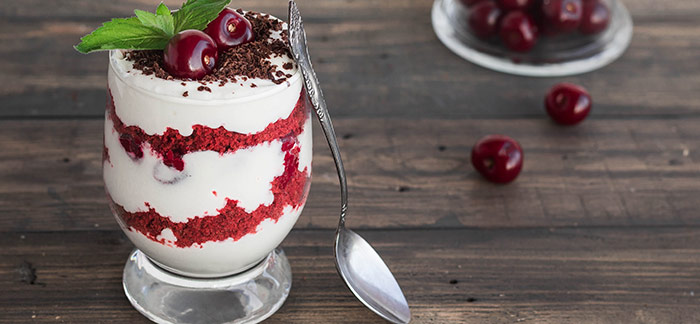 With all the prep and admin around the main Christmas meal, it's often just another exhausting task to get the dessert done. We all know, Christmas isn't complete without a Christmas pudding or trifle, so we've put a fresh twist on these all-time favourites as well as some quick and easy idea's to help make the last hurdle effortless before you can sit down and enjoy!
4 Ingredient Xmas cake
Taking on the all-important Christmas Cake can be dauting, but it's impossible to mess up with these easy ingredients.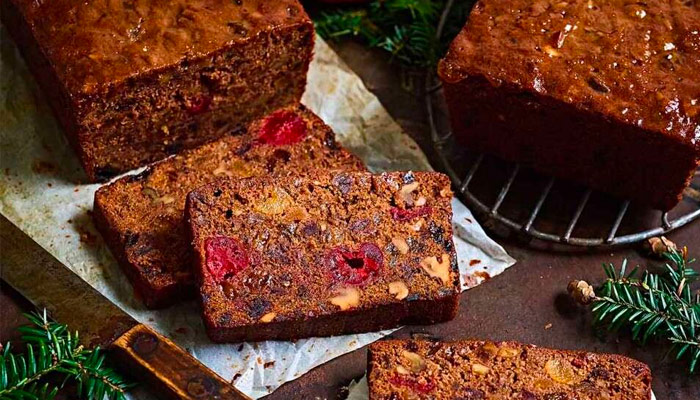 What you need:

1 kg mixed fruit (add a packet of glacé cherries if you like them as much as we do)
2 cups chocolate Milk (steri-stumpie will do)
1/2-3/4 cup amarula
2 cups self-raising flour

Soak fruit in milk & amarula for 24hrs.
Fold in flour. Line slow cooker with 2 layers of baking paper on bottom and sides.
Pour batter in and even out. Cook on low for 7-8 hours. Tea towel under lid.
---
3-Ingredient Chocolate Mousse
You don't even need to turn on the oven to make this silky smooth treat.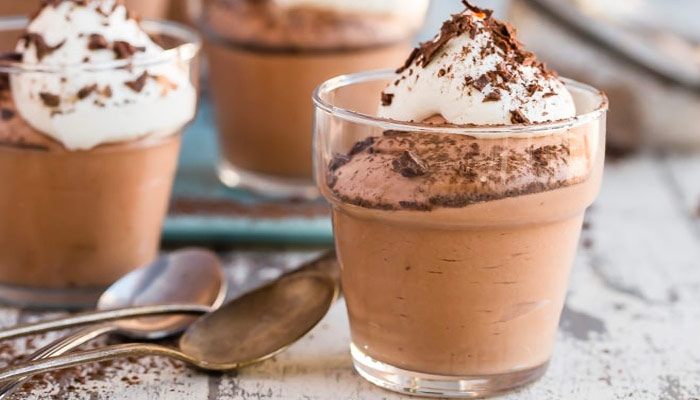 What you need:

230 gms chocolate (70% cacao or higher), chopped, plus chocolate shavings
30 regular-size marshmallows
2 cups heavy cream

In large bowl, combine chocolate, marshmallows and 1/2 cup heavy cream. Microwave on high 2 minutes; stir until marshmallows are melted and mixture is smooth (if not melted after 2 minutes, microwave in 15-second intervals, stirring in between). Let cool to room temp, about 45 minutes. Once mixture is cool, whip remaining cream in bowl until soft peaks form; transfer 1/2 cup to small bowl for topping. Refrigerate. Stir half of remaining whipped cream into cooled chocolate mixture until fully incorporated, then gently fold in the rest. Spoon into eight 4-ounce ramekins. Refrigerate until set, at least 2 hours and up to overnight. To serve, top with reserved whipped cream and sprinkle with shaved chocolate, if desired.
---
Salted Caramel Pears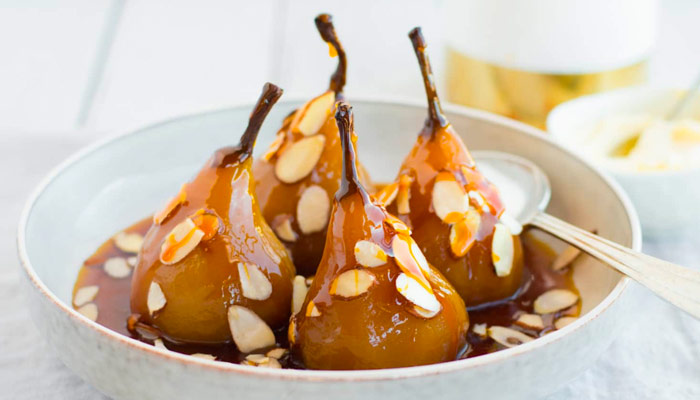 This elegant take on caramel apples looks excellent on even the humblest Christmas table.
What you need:

1 cup sugar
1/3 cup heavy cream
1 tbsp. butter
6 pears
Flake sea salt or coarse sugar, for serving

In small saucepan, heat sugar on medium, stirring occasionally until sugar dissolves. Increase heat to high; cook until caramel turns amber (this will happen quickly). Remove from heat; carefully stir in heavy cream until smooth. Stir in butter. Dip pears, one at a time, into caramel. Sprinkle with flaky sea salt (or coarse sugar) and place on parchment to set.
---
Red Velvet Holiday Trifle
Start with your favorite red velvet cake mix, then throw together this impressive dessert in three easy steps.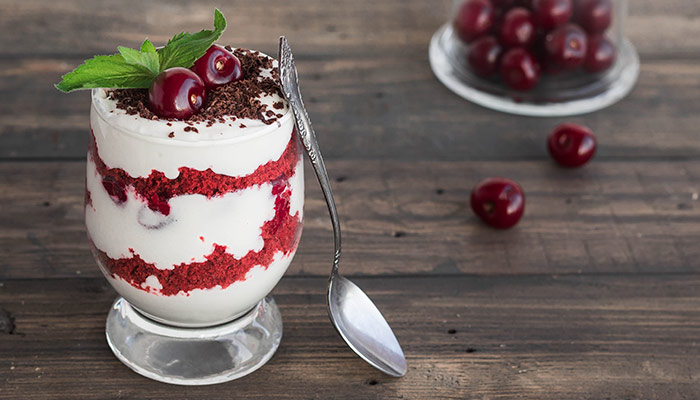 What you need:

1 ready-made red velvet cake
2 cups of half-and-half (available at macro)
1 cup heavy cream
560 grams chocolate chips
Whipped Cream
6 cup heavy cream
450 grams mascarpone (at room temperature)
3/4 cup sugar
2 tsp. vanilla extract
1/4 tsp. salt

For the Ganache: In saucepan, bring half-and-half and heavy cream to simmer, stirring often. Add chocolate chips to heatproof bowl and pour cream mixture over. Let stand 5 minutes, then whisk until blended. Let cool completely.
For the Whipped Cream: Using mixer with whisk attachment, beat heavy cream, mascarpone, sugar, vanilla extract, and salt on low until blended. Increase speed to high; beat until stiff peaks form. Refrigerate until assembly.
Assembly: Break cake into chunks. Layer in a deep glass trifle bowl, starting with Ganache. Refrigerate until serving. Garnish with cake crumbs.
---
Strawberry-Orange Trifle
For a summer twist on your Christmas table, serve up this delightfully light dessert.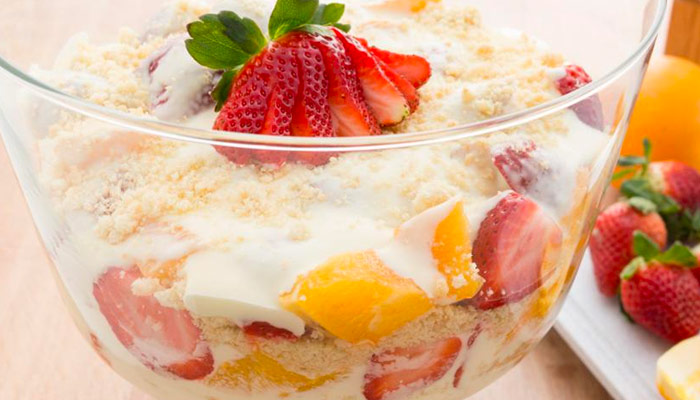 What you need:

1 qt. strawberries, halved
4 oranges, sectioned and halved
2 tablespoons orange liqueur or orange juice
3 tablespoons sugar
1 1/2 cups whipping cream
1 jar lemon curd
1 1/2 shortbread cookies, crushed

Toss together first 4 ingredients, and let stand at room temperature 10 minutes.
Meanwhile, beat whipping cream and lemon curd at low speed with an electric mixer until blended. Gradually increase mixer speed, beating until medium peaks form.
Layer one-third each of fruit mixture and curd mixture in a large bowl. Top with half of crushed cookies.
Repeat layers once. Top with remaining one-third fruit mixture and curd mixture. Cover and chill at least 1 hour or up to 8 hours. Garnish, if desired.
---
These deserts are sure to help you feel refreshed after preparing, and not as heavy and full after indulging!


Date Published:

10 December 2019