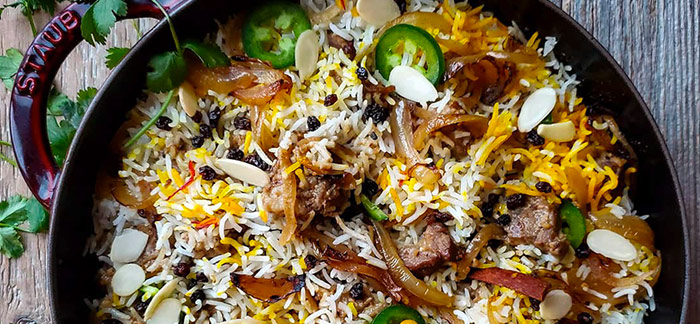 There are only 24 hours in a day, and the last thing you feel like when you're pressed for time is being stuck in the kitchen. If you love cooking but aren't a fan of dirty dishes, one pot suppers are your solution! The bonus? You can minimise the washing up but maximise on taste with these wholesome recipes for five stress-free meals you can enjoy throughout the week.
Vegan lentil, sweet potato, and chickpea stew

Make Meatless Monday easy with this hearty, filling, and flavourful stew!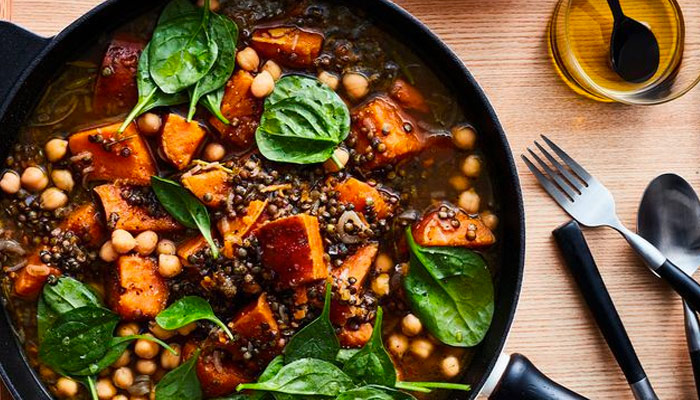 Ingredients:
3 french shallots (thinly sliced)
1 medium sweet potato (chopped into 3cm pieces)
1 cup green lentil
750ml vegetable stock
1 tin chickpeas (well-drained and rinsed)
¼ cup extra virgin olive oil, plus extra for drizzling
1 tablespoon rosemary sprigs (finely chopped)
Baby leaf spinach
Heat the olive oil in a large saucepan over medium heat. Add the shallots and rosemary sprigs, cooking for about 3-4 minutes until soft. Add the sweet potato and cook for another minute. Add the lentils, stock, and enough water, covering the vegetables by 3-4cm.
Simmer on medium-low heat for approximately 35-40 minutes or until the sweet potato is soft and the lentils cooked. Add the chickpeas to simmer in the last 10 minutes. Season to taste.
Serving suggestion: Generously garnish with baby spinach and drizzle with extra virgin olive oil.
Instant paella
Whip up this classic spicy Spanish seafood dish in less than 10 minutes!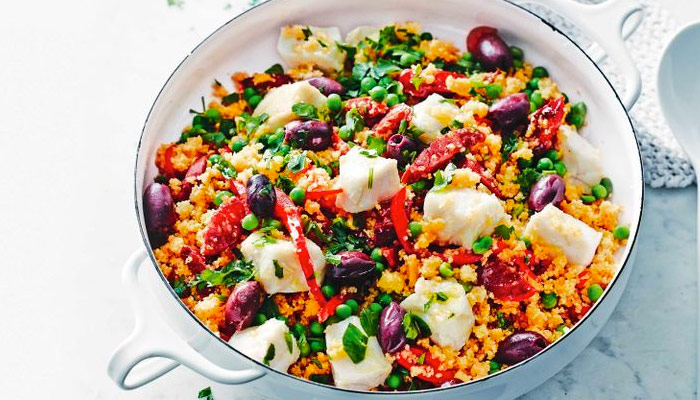 Ingredients:
2 anchovy fillets (chopped)
600g firm white fish fillets, e.g. ling (cut into 3cm pieces)
1 dried chorizo sausage (halved lengthways, thinly sliced)
1 red pepper (thinly sliced)
1 ½ cups instant couscous
1 cup fresh podded peas / 120g frozen peas
2 tablespoons olive oil
Chopped flat-leaf parsley and lemon wedges to serve
Heat the oil in a large deep frying pan with a lid over medium heat. Season the fish and cook, turning, for 2-3 minutes. Add the chorizo and cook, turning, for an extra 2 minutes or until fragrant. Add the red pepper, anchovies, and peas. Season with pepper, cooking for 1-2 more minutes.
Boil the kettle, then add the couscous to the frying pan, pouring over 1 ½ cups of boiling water until it's completely covered. Remove the frying pan from the heat, covering the lid, and let it stand for 2 minutes or until the water is absorbed, stirring to combine.
Serving suggestion: Sprinkle with parsley and serve with lemon wedges.
Low-carb cabbage casserole
This easy cheesy Keto meal packs a punch and cooks in 20 minutes flat.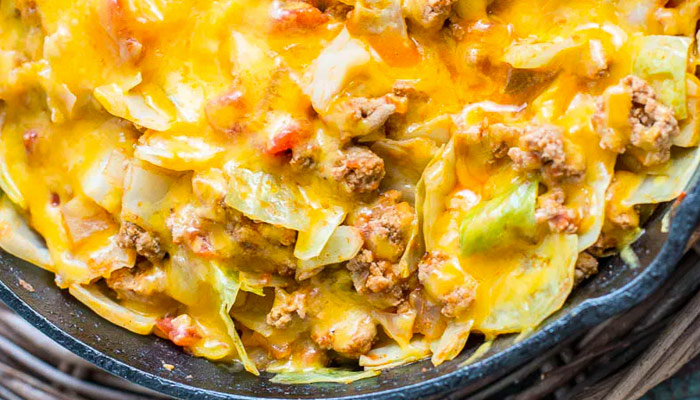 Ingredients:
450g beef mince (browned and drained)
½ head cabbage (chopped into medium chunks, approximately 3 cups)
1 small onion (diced)
1 tin tomatoes with green chillies (undrained)
1 tin tomato purée
1 teaspoon chilli powder
1 teaspoon garlic powder
1 cup cheddar cheese (grated)
In a medium frying pan brown the beef mince over a medium heat, draining off any oil.
Add the diced onion, sautéing for 3-5 minutes.
Add the cabbage, tomatoes with green chillies, tomato purée and spices, stirring well.
Cover and reduce to a medium heat, cooking for 15-18 minutes, stirring occasionally.
Serving suggestion: Sprinkle with cheese, adding salt and pepper to taste.
Lamb biryani
This tasty Indian dish is delectable on its own or part of a dinner table spread.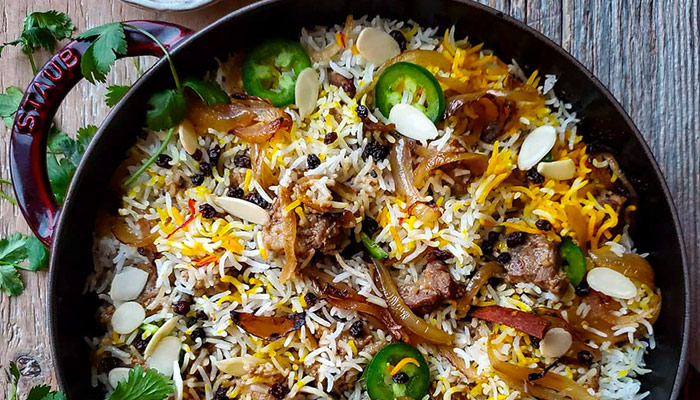 Ingredients:
6 lamb fillets (500g total, cut into 2cm cubes)
2 onions (thickly sliced)
3 cups vegetable stock
1 cup basmati rice
20 fresh curry leaves
3 tablespoons korma curry paste
2 tablespoons currants
1 tablespoon sunflower oil
Coriander leaves
Mango chutney
Poppadums
Heat half of the oil in a large heavy-based pan or casserole on a high heat. Cook the lamb for 3-4 minutes until just cooked and transfer to a bowl.
Heat the remaining oil over medium heat. Cook the onions and curry leaves, stirring for 3-4 minutes until the onions are soft. Add the curry paste, stirring for 1 minute. Add the rice, stirring to coat it in the paste, then add the stock and currants. Bring it to a boil, then simmer on a low heat for 12-15 minutes, stirring often, until the rice is tender.
Stir in the lamb and heat it for 2 minutes.
Serving suggestion: Serve with coriander leaves, mango chutney and poppadums.
Paleo chicken
Paleo, gluten-free, this speedy chicken dish makes Sunday's supper sorted! The bonus? By adding double the amount of water it easily turns into a stew or soup.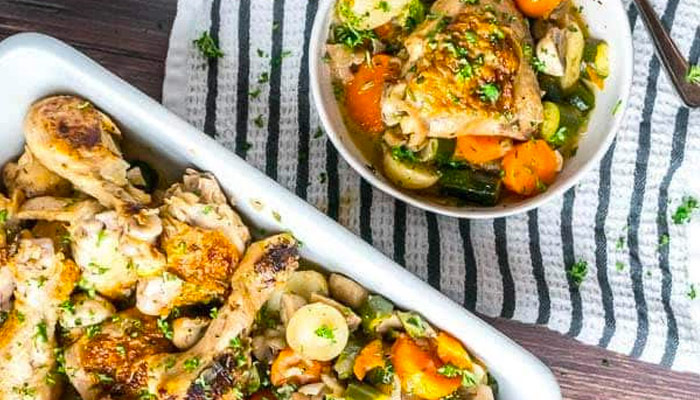 Ingredients:
500g chicken pieces
1 yellow onion (diced)
350g baby marrow (cut into rounds)
250g white button mushrooms (sliced in half)
2 cups baby potatoes (sliced in half)
2 cups carrots (peeled, sliced into rounds)
2 cups hot water
Herbs and spices:
1 teaspoon dried thyme
1 teaspoon ground coriander
1 tablespoon salt (2 teaspoons if it's fine table salt)
½ teaspoon black pepper
Heat a large pot and sear the chicken, skin side facing down.

After letting it sit for a while, add the remaining ingredients, bringing to a boil.

Add the herbs and spices, lowering the heat to avoid too much boiling.

Cover with a lid, leaving it to boil for 30 minutes.




Serving suggestion: Garnish with freshly chopped parsley and enjoy immediately!




Healthy eating needn't take much time or use numerous ingredients or dishes! Keep things simple by sticking to one pot suppers and others like these to make cooking, enjoying good food and cleaning quick and easy.


Date Published:

20 May 2021