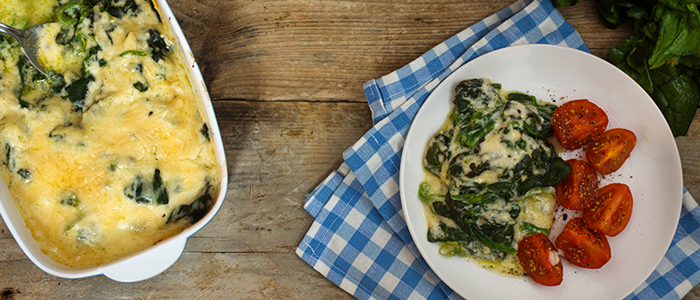 Ingredients
4 cups packed fresh spinach
1-2 tsp. olive oil (depending on your pan)
1 1/2 cups low-fat mozzarella
1/3 cup thinly sliced green onion
8 eggs, beaten
1 tsp. seasoning (any all purpose seasoning mix that's good with eggs)
salt and fresh ground black pepper to taste
How to make it
Preheat oven to 190C. Spray an 8 1/2 inch by 12 inch glass or crockery casserole dish with olive oil or nonstick spray.
Heat the oil in a large frying pan, add spinach all at once, and stir just until the spinach is wilted, about 2 minutes. Transfer spinach to the casserole dish, spreading it around so all the bottom of the dish is covered. Layer the grated cheese and sliced onions on top of the spinach.
Beat the eggs with Seasoning and salt and fresh ground pepper to taste. (I use only a tiny pinch of salt and a few grinds of pepper.) Pour the egg mixture over the spinach/cheese combination, and then use a fork to gently "stir" so the eggs, spinach, and cheese are evenly combined.
Bake about 35 minutes or until the mixture is completely set and starting to lightly brown. Let cool about 5 minutes before cutting. (The egg bake will settle down some as it cools.) Serve hot.
Healthy Ingredients - Lutein and Zeaxanthin
Lutein and zeaxanthin are plant pigments called carotenoids that have been shown to reduce the risk of chronic eye disease including age related macular disease and cataracts. Spinach and kale are excellent food sources of lutein and zeaxanthin, which are also found in green leafy vegetables and egg yolks.


Date Published:

23 March 2016