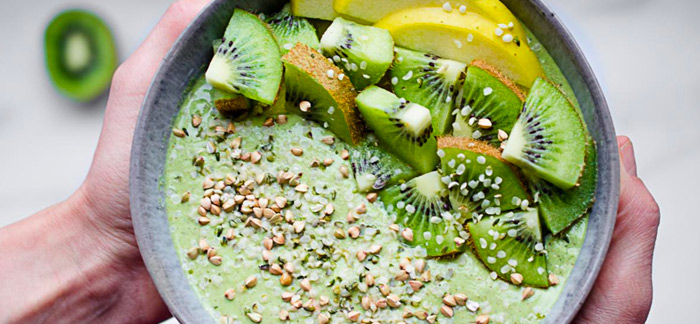 INGREDIENTS
½ cup buckwheat groat
1 cup packed spinach or kale (or combo of both)
2 kiwis, peeled (reserve 1 for topping the bowls)
½ yellow or green apple (reserve the other half for topping the bowls)
2 tablespoons ground flaxseed
2 tablespoons raw or roasted almond butter
¾ cup unsweetened almond milk
Additional optional toppings: hemp seed, chia seeds, almond cream
INSTRUCTIONS
Add the buckwheat to a medium bowl and cover with water and let sit overnight.
In the morning drain the buckwheat in a fine mesh strainer or colander. Rinse the buckwheat with cold water.
Transfer the buckwheat and the remaining ingredients (reserve 1 kiwi and the other half of the apple for garnish) to a blender and blend until smooth.
Divide the buckwheat mix between bowls. Slice the remaining ½ apple and the second kiwi and divide between bowls. Garnish with additional toppings if desired.
NOTES
The soaking liquid from the buckwheat will seem goop-y, this is normal.
You can use chia seeds instead of ground flaxseed if you wish but only use 1 tablespoon. Remember chia seeds will create a stretchy texture if left too long after blending.
These portion sizes (I have suggested that this serves 2) might seem smaller than the usual bowl, but this bowl is made with heavier ingredients. It packs a lot of protein and good fat and will keep you full!




Date Published:

26 February 2019