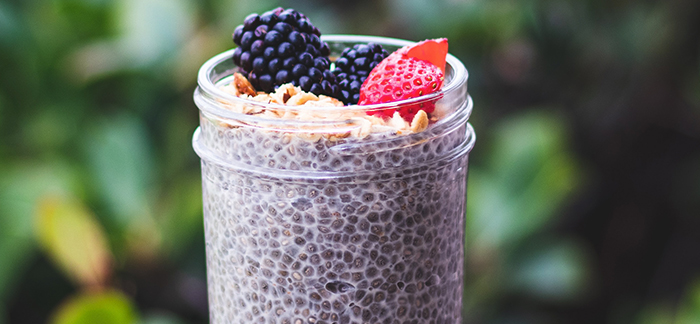 When it comes to a breakfast worth waking up for, it's time to think outside the cereal box. Although breakfast kick-starts your digestion and gives you the vitality and focus you need to get things done during the day, there is no reason why it should not be the most scrumptious meal of the day!

A healthy start to the day doesn't just stop at eggs and bacon, there are a host of delicious and nutritious recipes which will inspire you to rethink how you kickstart your day.
1. Breakfast on the run: Green Goddess Smoothie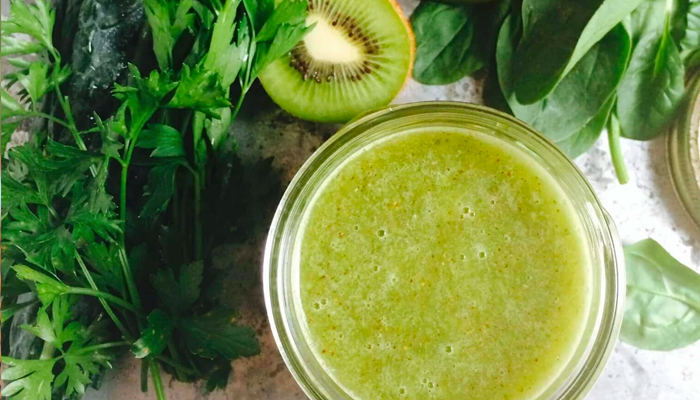 If you know your day is about to kick off with crazy, then grab a smoothie as you dash out the door. We've included an immune support supplement to help keep you healthy, especially if you are stressed and under pressure.

The Hero Ingredient: Glorious kiwi fruit (this is the only time we'll give them the upper hand)!
The Recipe:

2 kiwi fruits, chopped without the skin
Juice from 1/2 lime
½ small cucumber
1 ½ cups water
1 teaspoon everyday greens or handful baby spinach
1 teaspoon Natural Immune Support

The How:

Combine all the ingredients into a high-performance blender.
Blend until smooth. Add more water if needed for a thinner consistency.
Pour into a large glass and enjoy.

The Clincher: Did you know that kiwi fruits are higher in vitamin C than oranges and lemons? Vitamin C is an important antioxidant that is needed to synthesize collagen and repair damaged tissue.

2. Breakfast for weight-loss: Overnight Oats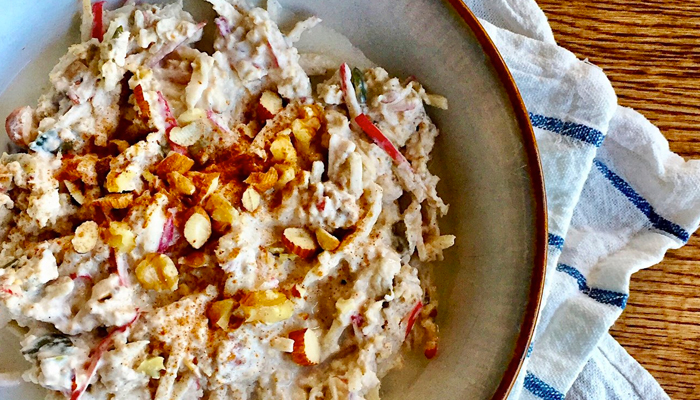 Scour the internet and it will come up time and time again – overnight oats the easiest weight loss ever. It's as simple as mixing a few ingredients together before bed and then grabbing a spoon when you wake up in the morning! Oats are low in calories but high in fiber and protein — two nutrients that impact appetite and weight control and which are sure to keep you full all morning.

The Hero Ingredient: Oat
The Recipe:

½ cup oats
½ cup water
½ cup almond milk
1 tsp cinnamon
1 grated green apple
A handful of chopped dates
A handful of pecan nuts
½ tbsp Greek yoghurt
One tablespoon (7 grams) ground flaxseed
Handful of almonds

The How



Simply combine oats water and almond milk overnight. In the morning add cinnamon, grated apple, chopped dates, pecans and Greek yoghurt – then mix!

The Clincher: Oats lowers your cholesterol levels and can help control your blood sugar levels. Also, there is something warm and fuzzy about eating a bowl of porridge in the morning.

3. Breakfast to help you glow all day: Cashew goji berry bowls
This bowl will rev your engine and keep you looking radiant all day long thanks to its energy-packed carbohydrates and healthy fats.

The Hero Ingredient: Sweet potato
The Recipe:

2 medium sweet potatoes
½ cup non-dairy vanilla yogurt (soy, oat, almond, or coconut)
1 cup mixed berries (raspberries, blackberries and/or blueberries)
2 tbsp finely shredded coconut (optional)
1 tbsp shelled hemp seeds
1 tsp chia seeds
¼ tsp ground cinnamon
⅛ tsp ground cardamom
1 pinch sea salt

The How:


Roast sweet potatoes until tender, 40-45 minutes. Remove from oven and let cool for 10 minutes. Halve sweet potatoes and place in a serving bowl. Mix berries with hemp seeds, chia seeds, cinnamon, cardamom and salt. Top sweet potatoes with berries and yogurt. Sprinkle with shredded coconut.

The Clincher: Sweet potatoes are good for brain and nervous system health. They're also a good source of potassium and magnesium, which help improve heart health by helping to regulate blood pressure. A double whammy is hemp seeds are a great protein source and contain high amounts of vitamin E, phosphorus, potassium, sodium, magnesium, sulfur, calcium, iron and zinc.

4. Breakfast for a tough emotional day ahead: High Protein Vanilla Chia Pudding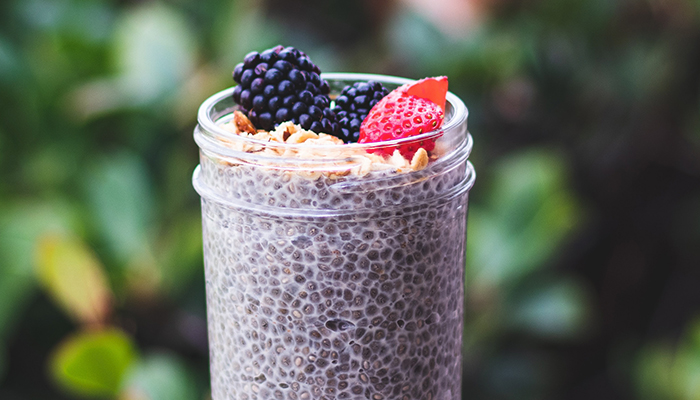 The Hero Ingredient: Chia seeds - rich in antioxidants, protein and healthy fat
The Recipe:

2 cups nonfat Greek yogurt
1.5 cups milk (any kind will work)
1/4 cup chia seeds
2 teaspoons vanilla extract
3 tablespoons honey

The How:

In a large bowl or Tupperware, mix together all ingredients. Let sit in the fridge for at least 4 hours or overnight. Serve with nutrient-packed toppings such as blueberries, pecans, chia seeds, and lemon zest.

The Clincher: This chia yogurt bowl is packed with fiber, low in sugar, and is the perfect breakfast to fuel you for the day. Plus, who doesn't want pudding for breakfast especially if you are facing an exhaustive emotional day.

5. Breakfast to give you all day satiety: Quinoa cakes and poached eggs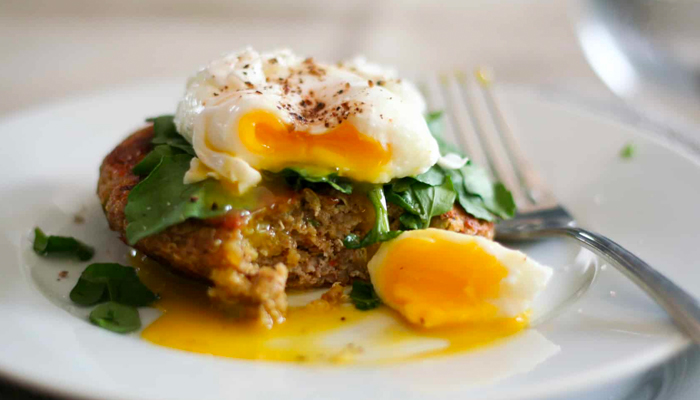 The Hero Ingredient: Power packed egg
The Recipe:

2½ cups cooked quinoa
1 cup breadcrumbs
2 eggs
½ cup or 4 egg whites
2 green onions, finely chopped
45 g extra sharp cheddar cheese
½ tsp salt
¼ tsp black pepper
About ½ cup watercress leaves
6 poached eggs

The How:

Combine the quinoa, eggs, egg whites, green onion, cheese, salt and pepper in a medium bowl. Add the breadcrumbs, stir, and let sit for a few minutes so the crumbs can absorb some of the moisture. Form into six patties.
Heat a little bit of olive oil in a large, heavy skillet over medium-high heat. Add the patties, if they'll fit with some room between each and cook until the bottoms are deeply browned, about 7 to 10 minutes.
Carefully flip the patties with a spatula and cook the second sides for 7 minutes, or until golden.
Transfer to serving plate, top with a pinch of watercress leaves and a poached egg. Sprinkle with salt and pepper.
The quinoa mixture keeps nicely in the refrigerator for a few days; you can cook patties to order, if you prefer.


The Clincher: Eggs of course! Eggs assist weight loss. Eggs are a great source of protein. Eggs tend to be relatively inexpensive. Eggs help with brain development and memory. Eggs also protect your eyesight.

6. Breakfast for the whole family: Cakey Almond Flour Pancakes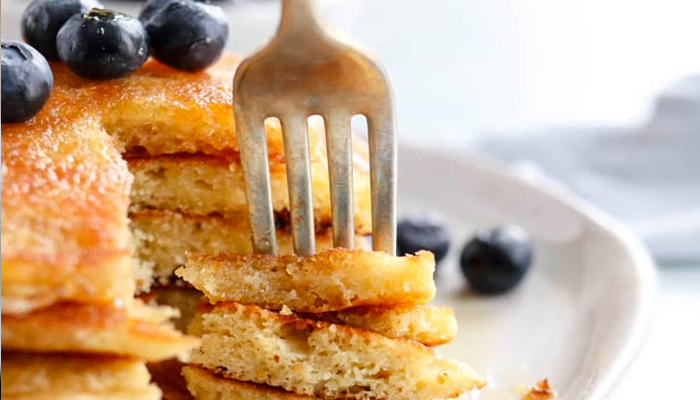 The Hero Ingredient: Nutty almond meal
The Recipe:

4 eggs
1/4 cup honey
1/4 cup melted butter
1/2 cup plain yogurt
1 tablespoon vanilla extract
3 cups almond meal
3/4 teaspoon sea salt
1 teaspoon baking soda
Butter or coconut oil for frying

The How:

In medium bowl mix dry ingredients. In a separate, small bowl mix wet ingredients. Pour wet ingredients into dry until just combined. Set batter aside to set up. Meanwhile, heat a skillet over medium-low heat until hot. Once heated up add 2 tablespoons or so of batter to the pan to make each pancake. The pancakes should be no wider than 2 inches or they will not hold together well. The batter is fairly thick so you can spread it out a bit to thin out the pancakes. Cook until bubbles start to form in the pancakes and underside has browned. Flip and repeat. Serve with butter, syrup, jam, or other favorite topping.

The Clincher: This recipe will keep the whole family happy, no need to make different batches with different ingredients. It's also super low in calories and tastes simply delish!
What are you waiting for? A healthy breakfast is a great way to get your day started off the right way. Get inspired, get cooking. It's a no brainer to rise to the occasion.


Date Published:

09 September 2020