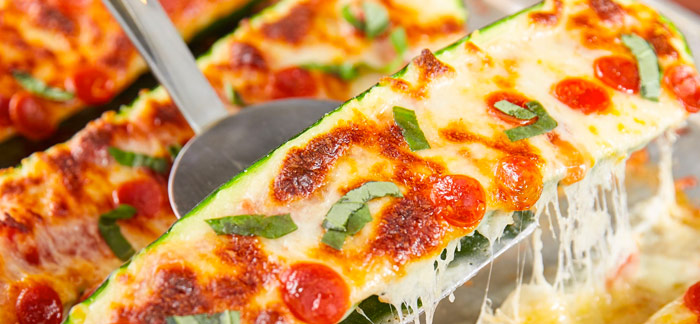 Who doesn't love their weekly dose of mouth watering pizza, it's enough to kickstart an indulgent weekend or be just the stress reliever you need during midweek chaos! Traditional has its merits, we get it, but sometimes you just gotta go a little craycray and spread your wings and try something a little unconventional – step into the world of avantgarde pizza's! The adventure might thrill you so much you never turn back!

We've thought outside the triangle to bring you these 5 easy and delightful recipes, we hope you will enjoy!
1. Zucchini pizza boat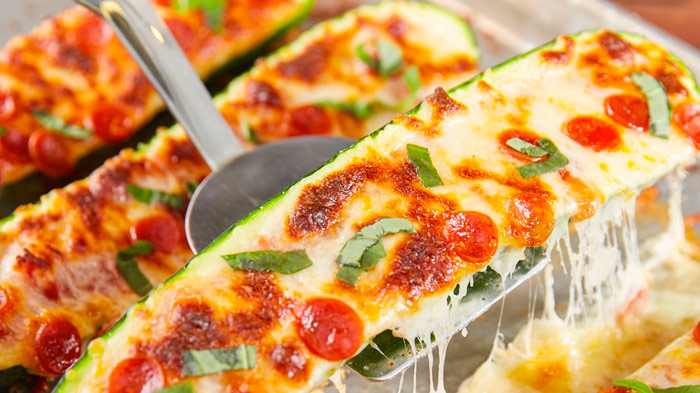 All the flavours of pizza without the extra carbs from a heavy crust! This option is healthier and still incredibly delicious!
Components

6 small zucchini
1 Tbsp olive oil
1 clove garlic, finely minced
Salt and freshly ground black pepper
1 cup marinara sauce
1 1/2 cups shredded mozzarella cheese
1/3 cup finely shredded parmesan cheese
1/2 cup mini pepperoni slices
2 Tbsp chopped fresh oregano

Directions

Preheat oven to 160 degrees. Line a large rimmed baking sheet with parchment paper, set aside.
Cut each zucchini into halves through the length. Pat insides dry with paper towels (cut portion). Align on prepared baking sheet.
In a bowl, stir together olive oil and garlic then brush lightly over tops of zucchini. Sprinkle with salt and pepper to taste then brush a slightly heaping 1 Tbsp marinara sauce over each zucchini, leaving a small rim near edges uncoated.
Sprinkle tops evenly with mozzarella cheese then with parmesan cheese. Top with pepperoni slices. Bake in preheated oven 12 - 18 minutes.
Remove from oven and sprinkle with chopped fresh oregano. Serve warm.
2. Paleo Pizza Potato Skins
Absolutely Yummy! These have all the flavour of pizza, but packed into a scooped out potato! Perfect as an appetizer or a meal. Gluten free, and so delicious!
Components

4 medium sized potatoes
8 tablespoons pizza sauce (see below recipe)
30 slices pepperoni
Black olives optional
Cheese of choice
10 gams sautéed mushrooms optional
Roasted garlic optional
Oregano
any other favorite pizza topping

Pizza Sauce (mix together with a blender and store in fridge for up to 7 days).

Can of diced tomatoes
2 cloves of garlic
1 tsp sugar
1 tsp basil
salt and pepper to taste

Directions

Preheat oven to 160 degrees and line a sheet tray with parchment paper.
Wash and poke holes in the potatoes, brush with coconut oil and bake for about 40 minutes or until tender.
Let cool for about 10 minutes, then cut the potatoes in half and scoop out most of the inside.
Brush both sides with coconut oil again and bake face down on the sheet tray for 7 minutes.
Turn over and bake 5 minutes.
Fill with pizza sauce, mushrooms, olives, garlic, cheese and pepperoni. Sprinkle some oregano on before the pepperoni if desired.
Bake for 10-12 minutes, or until pepperoni is crispy. Serve hot.
3. Bacon Crust Pizza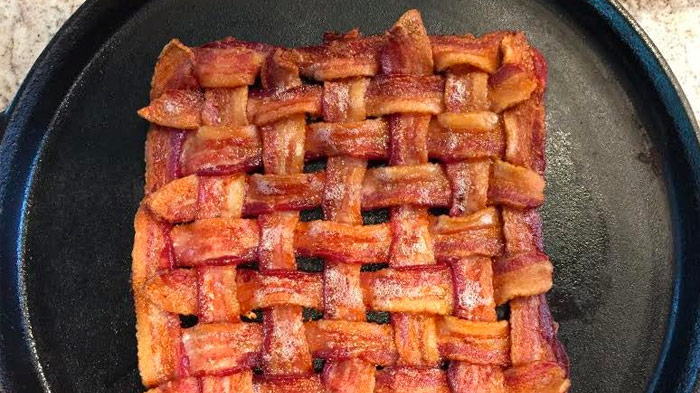 Need we say more… bacon as the crust, nothing else needs to be said to convince you of this choice!
Components

1 packet steaky bacon
2 cups mozzarella cheese
1/4 cup cheddar cheese
2 tbs Parmesan Cheese
2 cup Pizza Sauce (use recipe above)

Directions

Preheat the oven to 200 degrees. Place a sheet of parchment paper on a sheet pan.
Next form the crust. To do this you need to make a weave. To make the weave lay out eight strips vertically on a piece of foil or plastic wrap. Then fold over every other vertical piece of bacon in the middle then place a strip horizontally across the vertical bacon.
Place in the oven for 25-30 minutes and blind bake the crust until the bacon is almost crisp.
Once the crust is blind baked, remove it from the oven and cover with sauce.
Then top with 1 cup mozzarella cheese, 1/4 cup cheddar and a sprinkle of Parmesan cheese.
Remove the pizza from the oven. Pick up the edges of the parchment and slide the pizza onto a cutting board. Slice and eat.
4. Crustless Pepperoni Pizza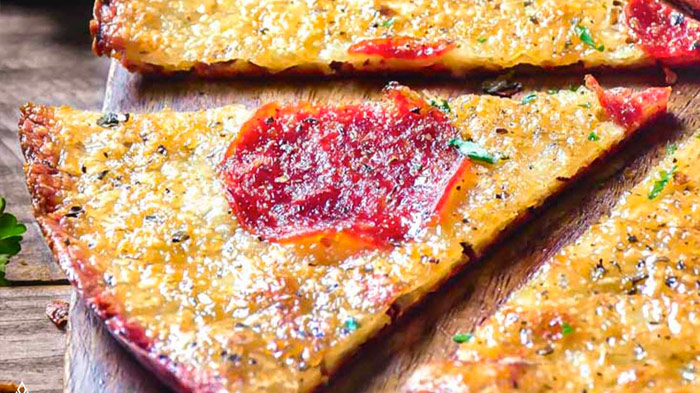 Not to be missed if you love traditional pizza but would rather forgo the carbs!
Components

1 3/4 c. shredded mozzarella
1/4 c. freshly grated Parmesan
10 slices pepperoni
1/2 tsp. oregano
Pinch of red pepper flakes
1 tsp. chopped parsley
1/2 c. marinara, heated, for dipping (optional)

Directions

In an 30 cm nonstick skillet over medium heat, add mozzarella in an even layer. Top with Parmesan and pepperoni. Cover with a glass lid and cook until cheese is completely melted and edges are golden, about 8 minutes. Top with oregano and red pepper flakes and remove from heat.
Let cool 3 minutes before sliding onto plate.
Garnish with parsley and slice. Serve with marinara, if using, for dipping.
5. Dessert Pizza on the braai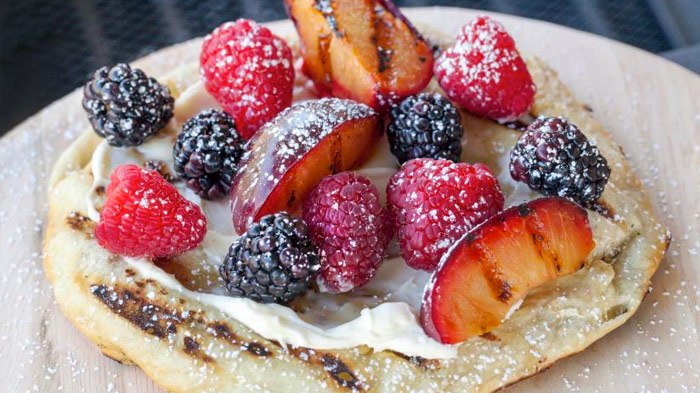 If you love pizza as much as we do, and just can't get enough try this naughty pizza with a twist!
Components

1 store-bought pizza dough
Canola oil, for brushing
1/2 cup mascarpone cheese
2 tablespoons honey
Plums, cut in wedges and grilled
1 cup raspberries
1 cup blackberries
Confectioners' sugar, for dusting

Directions

Heat the coals. Stretch and shape the dough into a 30 cm round on a flat surface. Brush the top with oil and toss on the grill, oil-side down. Cook until the bottom is golden brown, 1 minute.
Once the pizza dough has browned on the bottom, flip over and grill until golden brown and the dough is just firm, another minute or so. Remove to a sheet pan.
Combine the mascarpone cheese and honey. Smear the mascarpone over the pizza and scatter the plum wedges and berries on top. Put the pizza on the sheet pan back on the coals, cover it with tinfoil and cook just to warm the fruit, about 2 minutes. Dust with confectioners' sugar and serve immediately.
Now there is simply no excuse not to declare every night pizza night!





Date Published:

08 October 2019