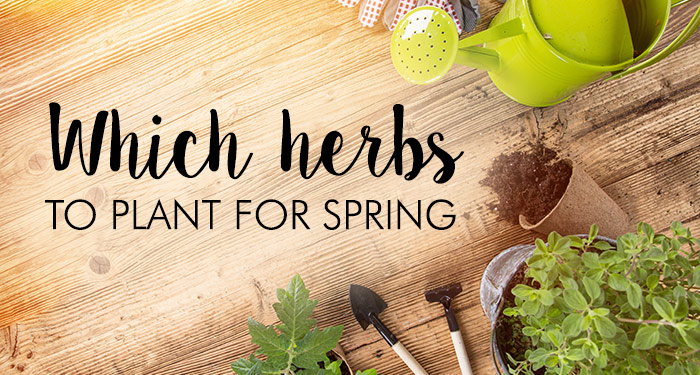 Spring is upon us and it is time to unleash those green thumbs and smell like dirt as the warmth of summer encroaches and the days grow longer. A selection of pots and fragrant herbs is all you need to welcome those mood-uplifting, sun-soaked flavours into your home, a sure-fire way to banish any memories of the winter blues. So get planting with these easy pleasers!
Basil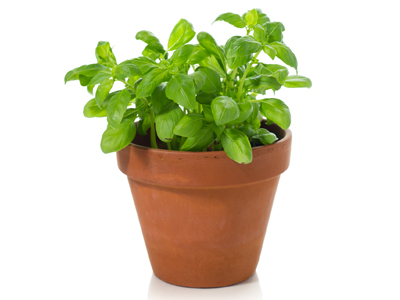 Basil is a herb that flourishes in fertile soil and plenty of sunshine (around 6-8 hours a day). Be sure to position the plant where it will be sheltered from cold winds. By nipping off flowers when they appear, you will stimulate leaf growth and maintain a pungency of flavour and fragrance. The perfect accompaniment to meals in a basil pesto or served up in a simple caprese salad, this Italian staple is a delight on the dinner table. Rich in vitamin K, vitamin A, vitamin C, magnesium, iron, potassium, and calcium, the inclusion of basil in the kitchen can also help to prevent the harmful effects of aging and the deterioration of eyesight.
Rosemary
Rosemary is another fantastic flavour, whether fresh or dried. As it likes to dry out between watering it should ideally be given its own space in the garden or pot-planted, where it can be moved indoors during the colder months. Ideal on a herby focaccia or roasted with a leg of lamb, it is a woody herb that can withstand high temperatures. Rosemary has also been shown to have antioxidant properties that aid in the fighting off of free-radicals, so it is no wonder that it is so very beloved in Mediterranean cooking.
Thyme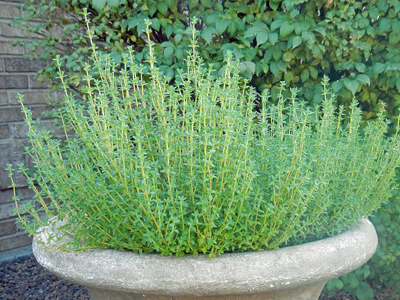 Thyme is a hardy, low-growing herb perfect for edging beds or placing in the front of a mixed container planting. Like rosemary, thyme can withstand high temperatures and is a sumptuous addition to roasted chicken or in summery meat-grilling marinades. A good source of vitamins A and C, and copper, this immune-boosting herb is easy on the eyes too. Beyond this, a healthier way to add flavour to food while decreasing blood pressure is to substitute thyme for salt as one tablespoon of this herb dried only contains one milligram of sodium.
Mint
Mint is an aggressive spreader so most gardeners in the know will recommend that you plant it in a pot of its own. This herb prefers morning sun and moist soil. Nothing if not versatile, mint is a refreshing garnish in a glass of iced tea while adding that extra punch to a tabbouleh salad on a sunny day. The aroma of mint is known to activate the salivary glands of the mouth as well as the glands that secrete enzymes. It is because of these properties that mint is used in much of the western world as an ingredient in appetizers and palate cleansers, aiding in the digestion of the main meal to follow. Mint is also one of nature's finest stimulants. Even a whiff of its crushed leaves can lift the spirits when life has you feeling drained.




Herbs, freshly picked, delight not only the senses, but can restore the body and revive the soul. Use this time to take full advantage of the months ahead, with the sun finally ready to shine on your potted treasures.


Date Published:

27 August 2015