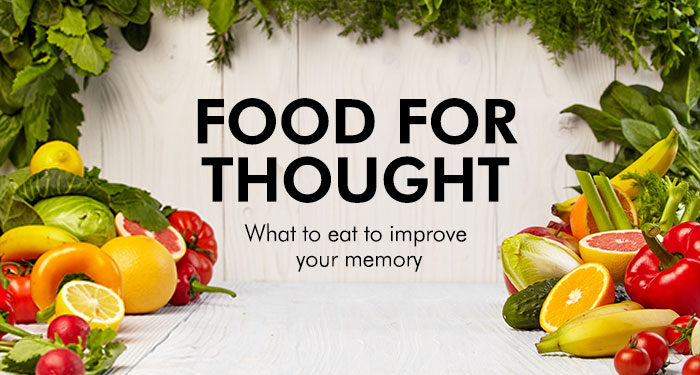 Psychologist and author, Edward de Bono, once famously said that "humour is by far the most significant activity of the human brain". There is, however, nothing funny about desperately searching for your keys in the morning or forgetting that all-important anniversary dinner. We often think to eat healthily for the heart, or for the figure, but we forget that our grey matter needs our attention too.
The cells of our brain are often more susceptible to free radical damage than we realise, and a diet that is rich in protective nutrients – such as antioxidants, B-vitamins and anti-inflammatory oils – can indeed go a long way in boosting our brain power. So, here are a few ingredients to add to your larder this winter to keep those pesky 'memory blips' at bay!
Coffee

Start your morning with a cup of freshly brewed tea or coffee. A modest amount of caffeine in your diet can help to enhance memory, focus and mood. Tea also contains powerful antioxidants that aid healthy blood flow. The antioxidants found in coffee have been found to similarly ward off age-related memory loss. Keep in mind though, that powdered or bottled teas and coffees do not have the same health benefits.
Oranges

Oranges are plentiful in winter, and not only are they are they a wonderful source of antioxidants for the brain, but for your eyes as well. Scientific evidence suggests that vitamin C lowers the risk of developing cataracts. Vitamin C also helps to promote healthy capillaries, gums, teeth, cartilage and the absorption of iron. So brighten up your kitchen this season with a big bowl of this citrus delight.
Pumpkin Seeds

A handful of pumpkin seeds is all you need to get your daily dose of zinc, vital to promoting memory and thinking skills. Because the body has no specialised zinc storage system, a daily intake is required to maintain a steady state. Take a handful with you to work as a mid-afternoon snack or scatter these zinc-rich treats over a winter vegetable salad at lunch to keep yourself topped up.
Dark Chocolate

Sometimes in life, you can have your cake and eat it too in the case of dark chocolate. Dark chocolate has strong antioxidant properties and contains several natural stimulants including caffeine. Not only do these enhance your focus and concentration, but they stimulate the production of endorphins which help to improve your mood. As with coffee and tea, moderation is key with this particular 'brain food', so savour a piece or two and put the slab away for the next time you need a little boost.
For everyday shopping, think Mediterranean. There is good evidence to suggest that the Mediterranean-style diet might be the best for preserving memory in the long-term. A recent study showed that a diet rich in fruits and vegetables, fish (rather than red meat) and olive oil can lower the risk of memory problems by 20%. The antioxidants found in tomatoes, particularly lycopene, could protect your brain against free radical damage. Meanwhile, fish such as salmon, tuna and sardines are rich in the vital omega-3 fatty acids. What better excuse could you have to welcome those Mediterranean flavours into your home this winter, for better health and that little taste of sunshine!


Date Published:

16 July 2015