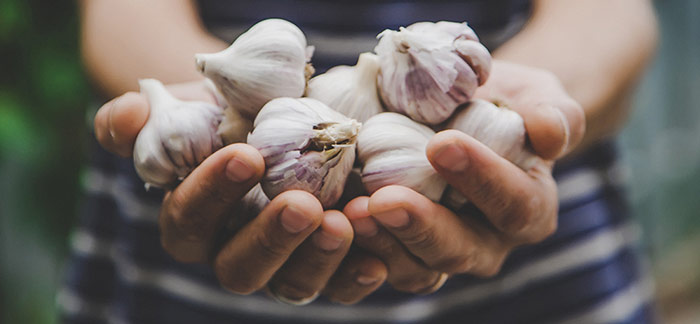 On pizza, in bread, butter, pesto, with pasta, seafood or potatoes, garlic enhances many a meal with its strong smell and tantalising taste. It's part of the onion family and there's so much more about this vegetable you might not know. In the interest of our continued pursuit of health and vitality, let's unpack this miracle ingredient and why you should include even more garlic in your daily diet.
Why is garlic so good for you?
Garlic is one of the oldest known horticultural crops. It has a long history of flavouring food and traditional medicinal use. But just what makes garlic so healthy? Here are just seven of its benefits:
Boasts a variety of vitamins and minerals - it's packed with manganese, selenium, vitamin C, vitamin B6 and plenty more
Increases immunity - its immune system-boosting function can help fight the common cold and flu
Lowers blood pressure - its active compounds and anti-inflammatory properties could help reduce high blood pressure
Decreases heart disease - it improves your cholesterol levels, which may reduce your risk of heart disease
Deters dementia – its antioxidants might prevent the onset of Alzheimer's and dementia
Cares for your complexion - it helps increase the growth and longevity of your skin cell
Fights fungus – it's antifungal and antibacterial - a winning natural remedy to athlete's foot!
How much garlic should I consume?
Too much garlic can make you uncomfortable and bloated, not to mention the more pungent body odour and dreaded garlic breath. Keep your intake to not more than one to two raw garlic cloves daily.
How do I avoid garlic breath?
There's nothing worse than your colleagues knowing what you had for supper last night without you even telling them! Science shows it's actually possible to neutralise your bad breath naturally before it turns into a vampire-repelling pong. Here are three solutions to nipping garlic breath in the bud:
1. Eat a raw apple.
The enzyme that turns a cut apple brown also functions as a natural deodorant to the sulphides that cause garlic breath.
2. Drink a little lemon juice.
The acid in lemon juice neutralises the enzyme produced by crushing garlic that results in the strong smell.
3. Sip some green tea.
Packed with antioxidants, green tea masks the odour-causing chemicals in garlic the same way as apples do.
Here are three snappy, scrumptious garlic recipes to try:
Roasted garlic
Roasted garlic is a surprisingly lip-smacking appetizer or party platter snack.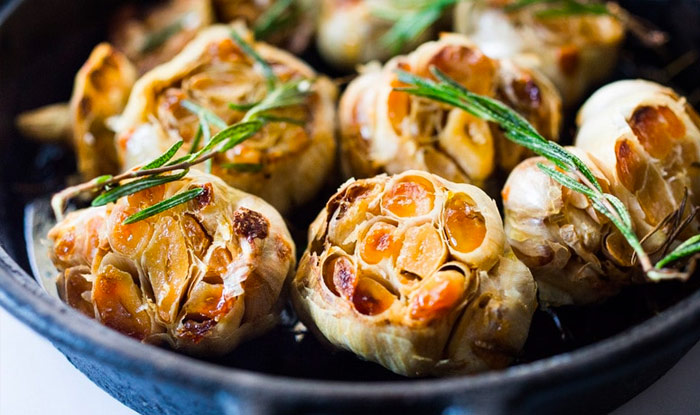 Ingredients:
Rosemary leaves
1/more whole heads of garlic
Extra virgin olive oil
Preheat your oven to 200°C.
Peel and discard the thin outer layers of the whole garlic bulb, leaving intact the individual clove skins.
With a sharp knife, cut ½ to 1cm from the top of the cloves, exposing the individual cloves.
Place the garlic heads in a muffin pan, cut side up. Drizzle a few teaspoons of olive oil and some rosemary leaves over each exposed head, using your fingers to rub the olive oil all over the cut, exposed, cloves.
Cover the bulb with tinfoil, baking for 30-40 minutes or until cloves are lightly browned and feel soft when pressed.
Cool, removing the roasted cloves from their skins. Allow the garlic to cool. With a small knife, cut the skin slightly around each clove, using a cocktail fork or your fingers to pull or squeeze the roasted cloves out their skins.
Enjoy as is or mash with a fork and spread over bread, mixed with sour cream to top a baked potato, or combine with parmesan cheese and pasta.
---
Pickled garlic
Served as part of a starter spread or chopped and added to salad dressings, pasta salad or stir fries, pickled garlic is simple yet wonderfully flavourful.
Ingredients:
1 cup garlic cloves (peeled, halved if large)
⅔ cup water
⅓ cup red/white vinegar
¼ cup sugar
1 ¼ teaspoons kosher salt
½ teaspoon whole black peppercorn
½ teaspoon mustard seed
½ teaspoon fennel seed
½ teaspoon crushed red pepper
Bring a small saucepan of water to a boil over high heat. Add garlic, cooking for 3 minutes. Drain and transfer the garlic to a 2-cup glass canning jar/heatproof jar with a tight-fitting lid.
Combine ⅔ cup water, vinegar, sugar, salt, peppercorns, mustard seeds, fennel seeds and crushed red pepper in a small saucepan. Bring to a boil over high heat, stirring until the sugar and salt are dissolved. Pour the hot pickling solution into the jar. Allow to cool to room temperature. Cover, refrigerating for minimum 8 hours so flavour can develop. Refrigerate for maximum 1 month.
---
Fermented honey garlic
An ideal immune system booster, this delightful fermented honey garlic is your go-to home remedy for those nasty colds and flus.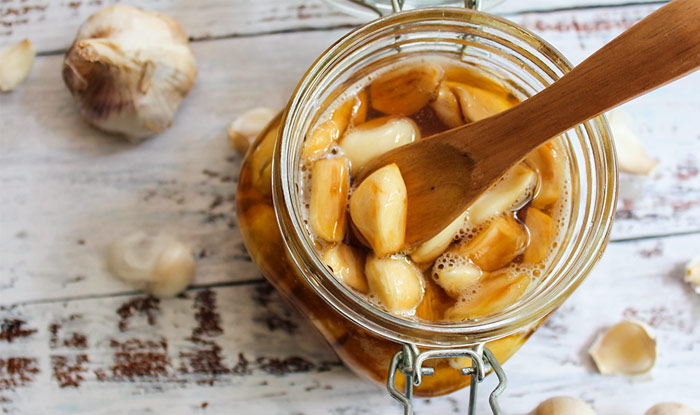 Ingredients:
1 cup whole garlic cloves (peeled, slightly crushed)
1 cup raw honey (more as needed to cover garlic)
Transfer the peeled garlic cloves into a wide-mouthed glass jar. Add enough honey to completely coat and cover the garlic cloves. Put the lid on the jar loosely, storing the jar in a dark place.

Every day, tighten the lid on the jar, flipping it upside down to coat the garlic cloves with honey. Loosen the lid again after turning it upright again.

After a few days you'll notice small bubbles forming on the honey's surface.

The honey garlic will ferment for approximately one month, but you can eat it any time. The flavour will continue developing and the garlic will mellow while the honey becomes runnier.

Store in a cool, dry place for up to a year or more.










The ancient Greek physician Hippocrates was onto something when he advised us to let food be our medicine and medicine be our food. Maybe this is why he prescribed garlic to treat all kinds of illnesses. Adding garlic into your diet can have a powerfully positive effect and help you live a heathier life.


Date Published:

14 June 2021