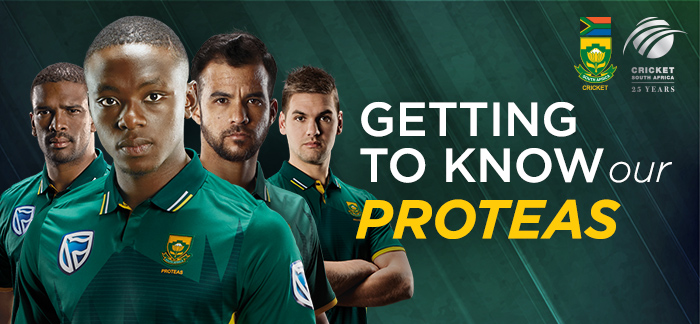 We caught up with JP Duminy and Kagiso Rabada and found out a bit about their daily routines, ways to unwind and how they keep fit.
Q1: What's your get-up-and-go morning routine?
KR: To be honest I'm not really an early morning person. I prefer to take my time getting the day started. I often start it off with breakfast followed with a training session at the gym or stadium.
JD: It's difficult to have a routine as a professional sportsman because match-days are different to off days, etc. I enjoy a healthy breakfast to start off the day followed by a session in the gym.
Q2: Do you subscribe to any specific diet? For instance, what does an average meal look like?
KR: I don't really follow a specific diet. I train quite hard and also burn off a lot of energy while playing so that gives me the benefit of being lenient on my eating. I prefer a full breakfast of bacon, eggs and toast for breakfast and normally have protein or vegetables for lunch and dinner
JD: I try to follow a high-protein, low-carb diet. Most of the time my meals include a piece of protein with either salad or vegetables.
Q3: How do you manage to stay motivated when it comes to keeping fit?
KR: Being a professional sportsman comes with its pressures and staying fit allows you to tick off one less thing to worry about. I don't need a lot of motivation… I am motivated to be the best that I can be and that means making sure I put in the work in the gym and at training.
JD: Our fitness trainer, Greg King, keeps us in check and every season we are given fitness targets that we need stick to and even better. As a sportsman, you want to perform at your peak and staying fit is a beneficial factor to attaining success.
Q4: If you weren't a cricketer, what would you be doing with your life?
KR: I would probably be an entrepreneur or a lawyer.
JD: A golfer
Q5: Who is your greatest source of inspiration?
KR: I draw a lot of inspiration from sporting greats like Richie McCaw and Cristiano Ronaldo but my greatest source of inspiration has got to be my parents. I wouldn't be where I am today without their support and guidance.
JD: I'm a spiritual person so I draw a lot of inspiration from the word of God and my close mentors.
Q6: When you finally find some downtime, what's the best way to unwind?
KR: I enjoy spending time with family and friends, listening to and producing music and playing football in the back garden with my younger brother.
JD: I enjoy playing golf, spending time with my wife and daughter, and sometimes nothing beats a braai at home with friends and family.

Date Published:

27 October 2016