Getting into shape from home is fun and more convenient than ever.
It's never too late to start exercising. One of the best goals you can set is to keep moving. Apart from the benefits of weight loss and increased energy levels, regular exercise reduces stress, strengthens your bones, muscles, as well as decreases your risk of chronic disease.
Here are four different online exercise classes to try from the comfort of your home for a good, healthy kick start to the year.
1. Rebounding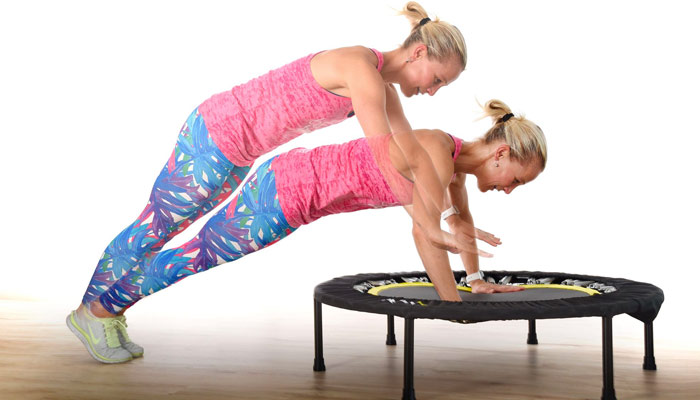 Why Rebounding?
Bounce your way to health on your own mini fitness trampoline with Rebounding. Did you know that bouncing on a trampoline for ten minutes is a more beneficial workout than spending 30 minutes on the treadmill?
The Benefit
Rebounding helps you lose weight, get fit and toned. It exercises, strengthens and cleanses every cell in your body, plus keeps your energy levels high. You'll also benefit from boosted lymphatic drainage, increased bone and muscle density and improved coordination.
Who's It For?
Rebounding is suitable for anyone. All ages and health and fitness levels can benefit. If you have minimal indoor space but want a maximised exercise session, Rebounding is for you. It's 68% more effective than running, which means less impact stress on your ankles and knees, plus it's a fantastic cardio workout, come rain or shine!
Equipment Needed
Buy your Rebounder fitness trampoline either from your local sports store or order it directly online from the ReboundSA store. Rebounders retail for approximately R2,100.00. Optional extras include a support bar, carry bag and mat. Roughly 91cm in diameter, Rebounders are the perfect size for your lounge or office. Some of these fitness trampolines also have detachable legs or can be folded in half for easy storage and transportation.
Cost
It'll cost about R105 to attend a class or you can purchase a monthly pass for up to R500 to join three classes a week. Grab a friend or family member to join you. Pick a DVD and digital book with pre-recorded exercises sessions to follow in your own time, or join an online live class such as with ReboundSA or TrampsSA.
2. A Dance Class

Why Dance Classes?
If you've always wanted to learn how to dance, now's your chance! Whether you prefer Latin and Ballroom, Hip Hop, Zumba Fitness or Tap and more, you're just a few steps away from improved focus and strength for your body, mind and soul, right from your living room floor. The beauty of online dance classes is self-paced learning in your safe space, so you can grow in confidence.
The Benefit
Dancing improves the condition of your heart and lungs, increases your muscular strength, enhances your aerobic fitness, and helps tone and strengthen your muscles. You'll also benefit from weight loss, stronger bones and improved agility, flexibility and coordination.
Who's It For?
Dance classes of various genres are valuable for everyone both young and old, experienced, or amateur. Online classes can connect you to a wider dancing community, plus it's an enjoyable social sport with friends or family.
Equipment Needed
Make sure you have a quiet space of 2m x 2m. You'll need comfortable, stretchy clothing and shoes. Depending on your chosen dance class you may need to invest in specific clothing or shoes.
Cost
Private or group classes are available, and prices vary according to the number of classes you attend per week. Some studios offer a free trial lesson or a reduced fee for a drop-in lesson (once-off class).
Five6Seven8 is one such dance studio offering various online options from learning a dance style via pre-recorded videos to taking live-streamed dance group or private classes with their instructors.
3. Boxing

Why Boxing?
Wherever you are at whatever time, boxing fitness is now available on multiple Android or iPhone devices. Take fitness into your own hands from your office or home and make boxing your perfect muscle tension and stress relief during your lunch break or after hours.
The Benefit
For improved balance and posture, a strengthened upper body and core, better hand-eye coordination and boosted endurance, boxing is a fantastic fitness sport. It can also increase your alertness, enhance your mood and aid in self-defence.
Who's It For?
Anyone who'd like to improve their cardiovascular health, burn calories, and relieve tension and stress will benefit. Beginner to advanced boxing fitness fans will benefit from a workout for both their body and mind.
Equipment Needed
Go to your local sports store and get your hands on some hand wraps, boxing gloves and a training boxing bag.
Cost
With a mobile app such as BoxFit At Home you can attend live daily interactive workouts with boxing instructors in a virtual classroom or access the library for on-demand workouts. After a free 14-day trial you can pay around R525 monthly or R5260 annually to join the BoxFit community.
4. Home Fitness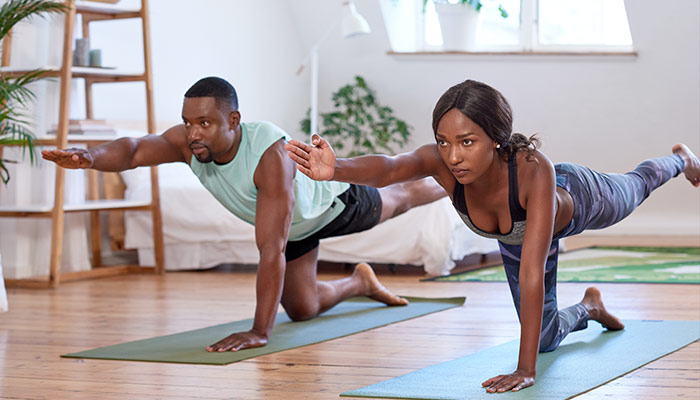 If you like the flexibility of training in your own home according to your schedule, consider joining a service such as Urban Fitness Online South Africa or Thrive Fitness SA. It's an excellent way to ease into an exercise routine or body conditioning by watching training videos relating to your specific personal fitness goals. Some offer the option of catching up by accessing the library of past online classes.
Why Home Fitness?
The ultimate in convenience, you don't need to leave home and you pick your exercise times. You set your own targets and pace plus have the online support and community to keep you motivated.
The Benefit
Home fitness is cheaper than an in-person personal trainer session, but you still get the input and expertise from an online coach and dietitian. Whether it's for weight loss, muscle building, body toning, stress relief or as a new hobby, home fitness makes a healthy lifestyle possible.
Who's It For?
Men and women of all fitness levels can benefit from live, facilitated online fitness classes.
Equipment Needed
To get started, make sure you have an exercise mat and a lightweight set of dumbbells.
Cost
Purchase a Thrive Fitness SA online membership for only R199 per month or join the Urban Fitness Online South Africa's Unlimited Zoomer package for R499 per month.







With plenty of online exercise options on offer, go for it and jump your way into the new year. You'll feel happier, healthier, improve your brain wellness and memory, and become fit along the way. Why not try out something new and different to keep moving, starting from today?








Date Published:

25 January 2021