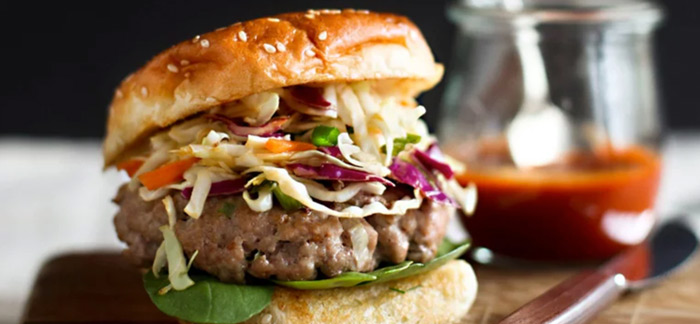 The holidays are over and most of us are back to our usual routines, the good news is summer will still be around for a while yet. There is something magical about getting together with friends and family and enjoying some delicious grilled food that's prepared right in front of you, with the sunsetting and the kids happily splashing in the pool, the mood is sure to transport you straight back to that holiday happy feeling.
These incredible burger recipes offer a unique twist to the classic traditional burger, show stoppers include turkey, pork, and even mushrooms.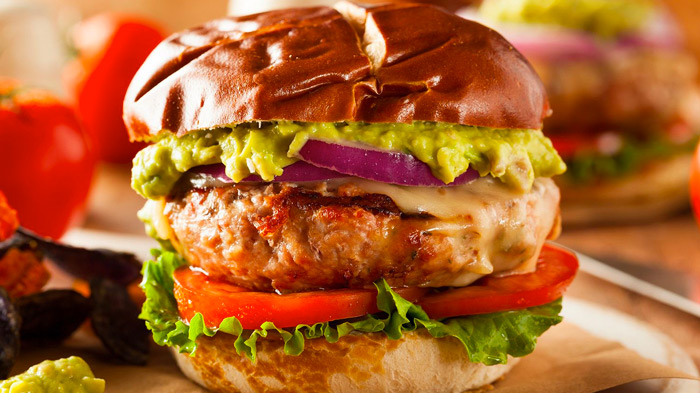 Perhaps you have some leftover turkey meat, or you just can't get enough of this alternative healthy option. Served with salsa, red bell peppers and a handsome helping of avo this feels more like a health kick than a hamburger indulgence. The hint of coriander is just the finisher this burger needs. For a yummy twist make your own fajita seasoning by simply combining a mixture of chili powder, cumin, paprika, cayenne pepper, garlic powder, salt, and black pepper, and voila!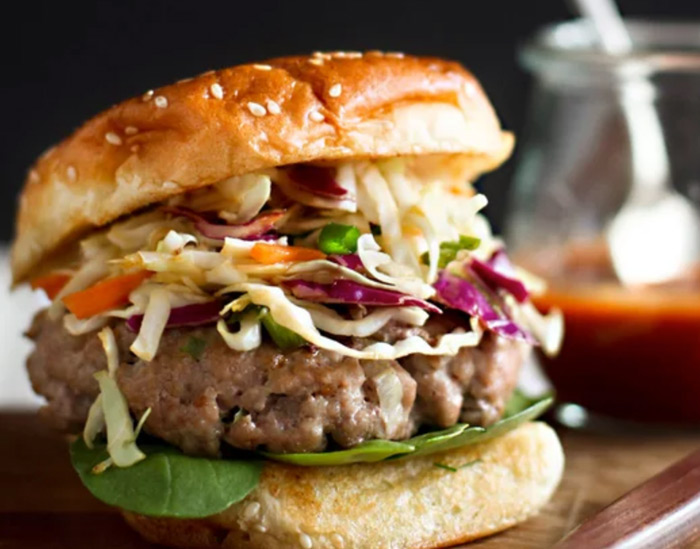 Filled with all things tangy these are an easy twist on Asian food that will have friends and family think you have served up something from May Chow. The added coleslaw on top is a delicious additive which gives the burger just the lift it needs. The cherry on the top, or should we say bun on the top is it takes just 8 minutes to serve.
Epic Crispy Quinoa Burgers Topped with Sweet Potato Fries, Beer Caramelized Onions and Gruyere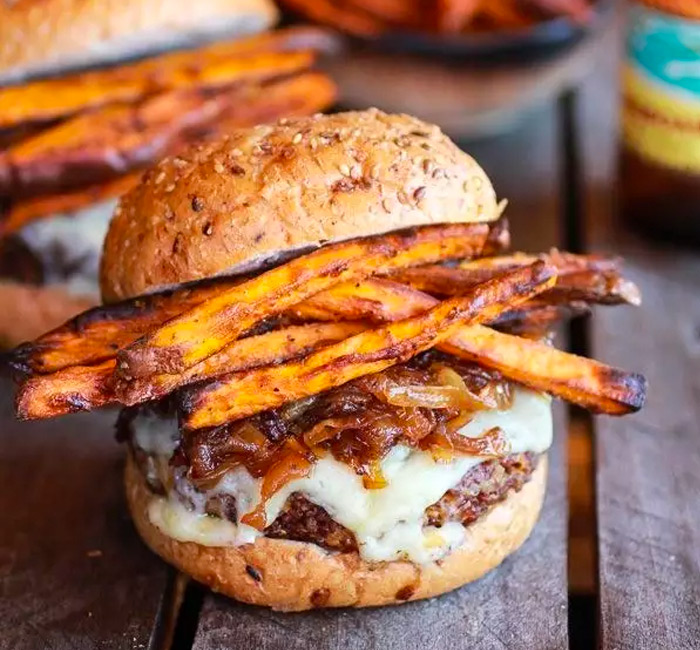 This type of burger us question the very existence of meat. Let's not debate if this will be "epic" or not! The question is, how impressive is quinoa as a meat replacement and what on earth is gruyere? What's the big fuss about quinoa? Well, this grain is taking the health world by storm. It's light, filling and tastes great when paired with some tangy sauce and some bread. We recommend using honey mustard — its sweet and zesty flavor will be sure to make you forget about the fact that you're not eating a meat. Now for the cheese, Gruyère (pronounced "groo-YAIR") is a smooth-melting type of swiss cheese that's made from whole cow's milk and generally cured for six months or longer. It also happens to be excellent at melting, which is why gruyère is superb on any burger.
A flavourful burger topped with cheese, tomato, and a mouth-watering spread is always a winning combo. Wrap it up in a nice piece of lettuce and you won't even miss the bun. You can use lean ground beef if you want juicy burgers, or be adventurous and smash some beets together, and then mold them into the shape of patties. You can add in some rice or oats for more substance and then cook them over a pan on medium-to-high heat. Your taste buds will be pleasantly surprised.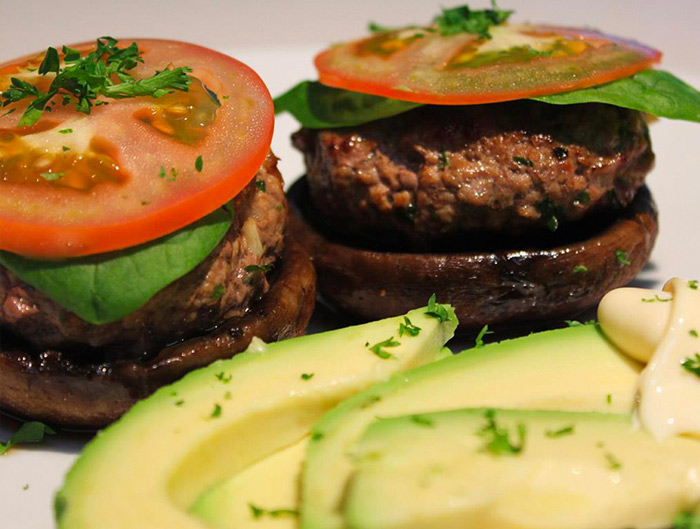 A simple grilled hamburger recipe using portobello mushrooms as the bun for a healthy alternative to regular hamburgers. Even if you are trying to eat lighter or maybe your new year's resolution has been to start banting, this delectable burger won't leave you feeling like you didn't get out of the starting blocks. It's packed with flavor and is as meaty as any burger on a bun!
So whether you looking to curb the expenditure and still be adventurous or if you've already run out of mojo for cooking every night, get out your grill and enjoy some healthy and delicious burgers around the fire this summer.


Date Published:

10 January 2019